"Robin Hood: Prince of Thieves" quotes
(1991)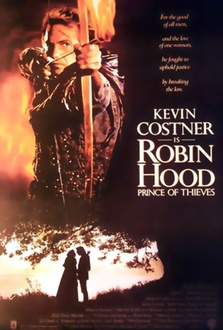 Title Robin Hood: Prince of Thieves
Year 1991
Director Kevin Reynolds
Genre Drama, Adventure, Action

Plot – Robin of Locksley comes back to England after the Crusades. The country now is ruled by King John Lackland and Sheriff of Nottingham together with the witch Mortianna. Robin has by his side a group of rebels and Moor Azeem, who has followed him from the Holy Land. After several battles, Robin Hood will defeat the Sheriff and marry Lady Marian.
All actors – Kevin Costner, Morgan Freeman, Mary Elizabeth Mastrantonio, Christian Slater, Alan Rickman, Geraldine McEwan, Michael McShane, Brian Blessed, Michael Wincott, Nick Brimble, Soo Drouet, Daniel Newman, Daniel Peacock, Walter Sparrow, Harold Innocent, Jack Wild, Michael Goldie, Liam Halligan, Marc Zuber, Merelina Kendall, Imogen Bain, Jimmy Gardner, Bobby Parr, John H. Francis, John Hallam, Douglas Blackwell, Pat Roach, Andy Hockley, John Dallimore, Derek Deadman, Howard Lew Lewis, John Tordoff, Andrew Lawden, Susannah Corbett, Sarah Alexandra, Christopher Adamson, Richard Strange, , Bryan Adams, Behrooz Afrakhan, David Bowles, Kenneth W Caravan, Sean Connery, Mickey Curry, Larry Klein, Lucien Morgan, Bill Payne, Derek Pykett, Neil Riddaway, Graham Riddell, Keith Scott, Mark Thomason, Fred Wood
show all
"Robin Hood: Prince of Thieves" Quotes 16 quotes
"Is there no sun in this cursed country?!"

"- Robin Hood: What do you know of women?
- Azeem: Where I come from, Christian, there are women of such beauty, that they can possess a man's mind so that he would be willing to die for them.
- Robin Hood: Wait a minute. Is that why you were to be executed? Because of a woman?"


"- Marian Dubois: There is a price on your head.
- Robin Hood: How much?
- Marian Dubois: One hundred gold pieces.
- Robin Hood: Is that all? I shall have to annoy the good Sheriff more. Soon it will be a thousand.
- Marian Dubois: For a thousand, I would turn you in myself."


"Just a minute. Robin Hood steals money from my pocket, forcing me to hurt the public, and they love him for it?
[Scribe nods] That's it then. Cancel the kitchen scraps for lepers and orphans, no more merciful beheadings, and call off Christmas."


"Men speak conveniently of love when it serves their purpose."




"- Friar Tuck: Let us open a bottle and do our best to save each other's souls.
- Azeem: Alas, I am not permitted.
- Friar Tuck: Fine then, you talk, I'll drink."


"- Marian Dubois: Robin, do something for me.
- Robin Hood: What?
- Marian Dubois: Take a bath."


"My lady, a woman of your beauty has no need for such... decorations."

"- Little John: Are you bleedin' cracked, girl? You'd get hurt.
- Fanny: I've given birth to eight babies. Don't you talk to me about gettin' hurt, ya big ox."


"- Guy of Gisborne: Why a spoon, cousin? Why not an axe?
- Sheriff George of Nottingham: Because it's dull, you twit. It'll hurt more."

"- Azeem: In my dreams alone have I imagined such a place.
- Robin Hood: Then imagine a way to cross it."

A wise man once said: "There are no perfect men in the world; only perfect intentions".