"Titan A.E." quotes
(2000)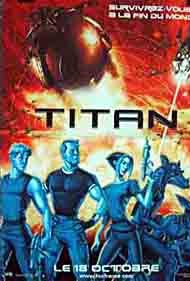 Title Titan A.E.
Year 2000
Directors Don Bluth, Gary Goldman, Art Vitello
Genre Sci-Fi, Adventure, Family, Animation, Action

Plot – In 3028 mankind has conquered space. Although travelling to the most remote galaxies has become normal practice, humans continue to consider Earth as their home. For mankind the new freedom means new enemies and planet Earth is getting ready to face an attack by the Drej, an evil alien race. Before the planet disappears forever the human race has time to escape on a beautiful ship, the Titan. This is the first science fiction animation movie.
All actors – Matt Damon, Bill Pullman, John Leguizamo, Nathan Lane, Janeane Garofalo, Drew Barrymore, Ron Perlman, Alex D. Linz, Tone Loc, Jim Breuer, Christopher Scarabosio, Jim Cummings
show all
"Titan A.E." Quotes 11 quotes
"The human race is outta gas. It's circling the drain. It's finished! The only thing that matters is grabbing whatcha can before somebody else beats ya to it."

- Akima: You can't call a planet "Bob".
- Cale Tucker: So now you're the boss. You're the King of Bob.
- Akima: Can't we just call it "Earth"?
- Cale Tucker: No one said you have to live on Bob.


"- Tek: It's time, Cale. It's time to stop running.
- Capt. Joseph Korso: Actually, I think it's time to start."

"- Cale Tucker: For your information, I happen to be humanity's last great hope.
- Preed: I weep for the species."


"Maybe I've been wrong all these years, and it's taken your inspiring speech to make me see it. You've really changed me. It's beautiful. I think we've gotta hug."

"If you're going to hunt humans, you should know we travel in packs."

Everyday I wake up and it's still the present. The same grimy, boring present. I don't think this "future" thing of yours exists.