"Focus" quotes
(2015)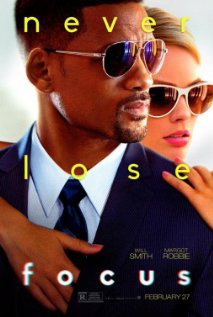 Title Focus
Year 2015
Directors Glenn Ficarra, John Requa
Genre Drama, Comedy, Crime, Romance

Plot – In "Focus", Will Smith plays Nicky, an expert con-man, who finds himself romantically involved with an aspiring criminal, Jess. While Nicky tries to teach her the ropes, the relationship between the two becomes very intimate, with the result that Jess is pushed away abruptly. Three years later, Nicky's former lover and now accomplished femme fatale turns up in Buenos Aires during a very risky car race. In the middle of Nicky's last dangerous mission, she will risk derailing his plans and putting the established con-man in serious trouble.
All actors – Will Smith, Margot Robbie, Adrian Martinez, Gerald McRaney, Rodrigo Santoro, BD Wong, Brennan Brown, Robert Taylor, Dotan Bonen, Griff Furst, Stephanie Honoré, David Stanford, Dominic Fumusa, Steve Kim, Don Yesso, Juan Minujín, Jano Seitun, Melania Lenoir, Pietro Gian, Justina Bustos, Paula Brasca, Antonella Macchi, Aaron Jay Rome, Armando Leduc, Jon Eyez, Clay Chamberlin, Danny Ladmirault, Chip Carriere, Daniella Short, Frank J. Monteleone, Alan Sabbagh, Hervé Segata, Jorge Takashima, Pierre Marquille, Nas Mehdi, Federico Bongiorno, Kate Adair, Billy Slaughter, Lindsay Clift, Thomas Francis Murphy, Nicoye Banks, Ruy Gatti, Cacilie Hughes, Alvin Chon, Brett Baker, Taylor Persh, Mariano Bertolini, Scott Michael Jefferson, Billy Louviere, Thomas Thomason, Antonella Saldicco, Joaquín Berthold, Marina Artigas, Dario Dukah, Martin Covert, Apollo Robbins, Michael Dardant, Victor Moran, Eric McMullen, Han Soto, Yeshi Tenzin, Laney Chouest, Darrell Foster, Hilary Ellison Tuttle, Guillermo Miguel, Nina Leon, Nick Reasons, Chris Dieker, Stevie Baggs Jr., Thomas Holley, Walter Prestenberg Jr., Nicholas Harris, Patrick O'Hara, David Haines, Steve M. Hammond, Derrick Townsend, , Derrick Dee Drake, Andre Allemand, Charles Barber, Carmen Barika, Candice Michele Barley, Victoria Baxter, Eric Berris, Natasha R Brown, Tom Bui, Joseph Randy Causin, Joe Chrest, Rebecca Collins, Shakeya Connor, Ross P. Cook, Robert 'Bigg Sarge' Deon, Nick Diamantis, Blake Dozzer, Divine Prince Ty Emmecca, Joseph Fischer, Laura Flannery, John Garcia, Juan Gaspard, Carlos Ramónne Graham, Gene Kevin Hames Jr., Bob Hartnack, John Henry, Kenneth Herrington, Christopher Heskey, Sebastian James, David Jensen, Tran Joshua, Patrick Kearns, Meade Kincke, Steve Kish, John C. Klein, Richie J. Ladner, Jennifer M. Laners, Cynthia LeBlanc, Elton LeBlanc, Justin Lebrun, Stephanie McIntyre, Quintin McKemie II, Jock McKissic, Anna Medley, Joseph Menard, Starlette Miariaunii, Satin Mitchell, Jody Mullins, Moses Munoz, Jay Oliver, James Ourso, Cynthia B. Overton, Danny Pardo, Marlon Price, Angel Ribolla, Candice Tracy Ross, Dalton Russell, Katherine Jeanie Russell, Andrew Sensenig, Paula Shreve, Kerry Sims, Logan Douglas Smith, Stefan Solea, Chansi Stuckey, Nathan Alan Thomas, Michelle Torres, Jesse Yarborough
show all
"Never drop the con. Die with the lie."




"- Nicky: Now attention is like a spotlight, and our job, is to dance in the darkness.
- Jess: I didn't even feel you take that.
- Nicky: The human brain is slow, and it can not multitask."

"- Nicky: You are not going to slap my face, are you?
- Jess: Why?
- Nicky: You would if you knew where my hand was."


- Jess: Will you be my boyfriend? Just for a minute. You're not a serial killer, are you?
- Nicky: That depends. How many times does it take to get to "serial"?


"There's two kinds of people in this world. There's hammers and there's nails. You decide which one you want to be."




"It's about distraction. It's about focus. The brain is slow and it can't multitask. Tap him here, take from there."


"There's a lazy Sunday softness to your generation. Makes me uncomfortable."

"- Jess: Why did you come up here if you were on to us?
- Nicky: Professional curiosity, and I like boobs, so I considered it was a win win."


"If I die, I die telling the truth. And if I lie, I'm gonna lie like normal people lie."

"- Nicky: This is a free country. Buenos Aires is a free country, right?
- Pretty Woman: No, Buenos Aires is a city."


"- Nicky: I wish you the best of luck.
- Garriga: With friends like you, who needs luck?"


You wanna tell somebody to fuck off, tell them to fuck off. Don't say, "Gee, what a great jacket." It's weakness.