"Rumor Has It..." quotes
(2005)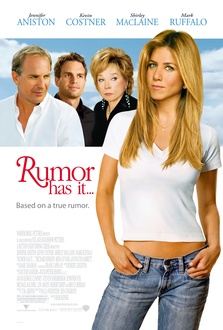 Title Rumor Has It...
Year 2005
Director Rob Reiner
Genre Drama, Comedy, Romance

Plot – Rob Reiner directs this romantic comedy that tells the story of Sarah, a young bride to be who decides to return to her original home in Pasadena in search of answers about her existence. Her search will lead her to the millionaire Beau Burroughs who, unexpectedly, helps her to discover her true identity.
All actors – Jennifer Aniston, Kevin Costner, Shirley MacLaine, Mark Ruffalo, Richard Jenkins, Christopher McDonald, Steve Sandvoss, Mena Suvari, Mike Vogel, Rob Lanza, Lisa Vachon, Trevor Stock, Jennifer Taylor, Marcia Ann Burrs, Lynn Wanlass, Mary Anne McGarry, Maree Cheatham, Gloria Grant, Gregory White, Jake Mailey, Frank Novak, Billy Kerr, Terrie Snell, Shannon Farnon, Jenny Wade, Erinn Bartlett, Allyson Bradford, Kate McClafferty, Googy Gress, Rolando Molina, Carmela Rappazzo, Erinn Hayes, Christopher Stapleton, George F. Regas, Jaime Ray Newman, Andy Milder, Gabriel Jarret, Clyde Kusatsu, John Sterling Carter, Mike Baldridge, Donna Cooper, Erin McDonald, Paul Ganus, Amos Levkovitch, Leigh French, Charlotte Colavin, George Gerdes, Lyman Ward, Jordan Lund, John E. Byrd, Anne Bancroft, Kathy Bates, Joshua Bevier, Joan Blair, Colleen Camp, Michael Chen, Troy Christian, Curt Clendenin, Bill Clinton, Johnny Drocco, Michael Durrell, Robert Foreman, Barry Goldwater, George Hamilton, Harrison Held, Dustin Hoffman, Joshua Michael Kwiat, Roger Lim, Patricia Mizen, Sandra Plazinic, John Patrick Shulak, Erica Taylor, Erika Wakker, Sarah Westbrook, Brad Everett Young, Rachel Zeskind
show all
"Rumor Has It..." Quotes 7 quotes
"Life has to be a little nuts sometimes. Otherwise it's just a bunch of Thursdays strung together."


"All women become like their mothers, that is their tragedy. No man does, that's his."




"Life is short, but marriage is long, so drink up, and it will make it go a hell of a lot faster."


"I didn't come here to tell you that I can't live without you. I can live without you. I just don't want to."


"Come on in, I'll put on a pot of Bourbon."




There's an old saying: "Nobody comes from Los Angeles. Everybody comes to Los Angeles". But if you do come from Los Angeles, then chances are you come from Pasadena.