"Everything You Always Wanted to Know About Sex * But Were Afraid to Ask" quotes
(1972)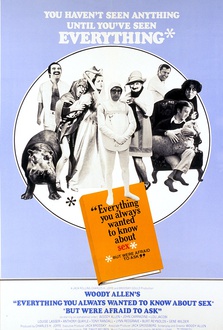 Title Everything You Always Wanted to Know About Sex * But Were Afraid to Ask
Year 1972
Director Woody Allen
Genre Comedy

Plot – - First episode: "Do Aphrodisiacs Work?". In the Middle Age, a court buffoon tries to seduce the Queen by giving her an aphrodisiac, but the Queen is wearing a chastity belt. The King discovers what happened and decapitates the buffoon.
- Second episode: "What Is Sodomy?". A doctor falls in love with a sheep and leaves his wife. When the shepherd finds out about it, he takes the sheep back and the doctor is left alone.
- Third episode: "Why Do Some Women Have Trouble Reaching an Orgasm?". A young woman can reach orgasm only when she's in danger.
- Fourth episode: "Are Transvestites Homosexuals?". After 20 years of marriage, a woman discovers that her husband likes to wear women's clothing.
- Fifth episode: "What Are Sex Perverts?". Four panelists are taking part to a gameshow where they have to guess the contestants' perversion. After they have failed, a second segment of the show is presented, in which a selected viewer gets to act out his humiliating fantasies.
- Sixth episode: "Are the Findings of Doctors and Clinics Who Do Sexual Research and Experiments Accurate?". Two young researchers, who are investigating sex, escape from the experiments of a crazy doctor. Then, they help capturing a giant breast.
- Seventh episode: "What Happens During Ejaculation?". Sex seen from within a man's body where there is a laboratory full of scientists.
All actors – Woody Allen, John Carradine, Lou Jacobi, Louise Lasser, Anthony Quayle, Tony Randall, Lynn Redgrave, Burt Reynolds, Gene Wilder, Jack Barry, Erin Fleming, Elaine Giftos, Toni Holt, Robert Q. Lewis, Heather MacRae, Pamela Mason, Sidney Miller, Regis Philbin, Titos Vandis, Stanley Adams, Oscar Beregi Jr., Alan Caillou, Dort Clark, Geoffrey Holder, Jay Robinson, Ref Sanchez, Don Chuy, Baruch Lumet, Tom Mack, Robert Walden, H.E. West, , Norman Alden, William Beckley, Inga Neilsen
show all
"Everything You Always Wanted to Know About Sex * But Were Afraid to Ask" Quotes 12 quotes
"When it comes to sex, there are some mysteries that should remain unexplored. And with my luck, they always will be."


"I'm not getting shot out of that thing. What if he's masturbating? I'm liable to end up on the ceiling."


"- Helen Lacey: Oh, Victor, please don't do anything dangerous!
- Victor Shakapopulis: Don't worry. I know how to handle tits."


"Does it sound mad? That's what they called me at Masters and Johnson's clinic, mad. Because I had visions of explorations in sexual areas undreamed of by lesser human beings. It was I who first discovered how to make a man impotent by hiding his hat. I was the first one to explain the connection between excessive masturbation and entering..."

(continue)

(continue reading)

"- Dr. Bernardo: Here I'm studying premature ejaculation in a hippopotamus.
- Victor Shakapopulis: How often does that problem come up with a hippo?
- Dr. Bernardo: Here I'm forcing a man to have intercourse with a large rye bread. They're getting on famously! Here I'm going to take the brain of a lesbian and put it into the body of a man who..."

(continue)

(continue reading)




"Can we please have an erection? What the hell is going on down there?"




"With most grievous dispatch I shall open the latch to get at her snatch!"




"Before you know it, the Renaissance will be here and we'll all be painting."