"Masterminds" quotes
(2016)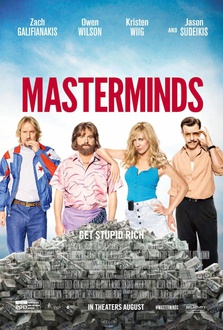 Title Masterminds
Year 2016
Director Jared Hess
Genre Comedy, Crime, Biography, Action

Plot – David Ghantt is a simple man that lives a very dull life. Day after day he drives an armoured van filled with millions of dollars. His only distraction is his colleague Kelly Campbell, whom he has a crush on. In order to impress her, David makes a deal with a group of criminals led by Steve Chambers. Following their awful plan, David manages to escape with 17 million dollars and, after the robbery, he gives the money to the group of cheats. While the group spends the money, leaving many clues behind them, David becomes the only scape goat and will find himself escaping the police and an unskilled killer to successfully save his life.
All actors – Zach Galifianakis, Kristen Wiig, Owen Wilson, Ross Kimball, Jason Sudeikis, Devin Ratray, Mary Elizabeth Ellis, Kate McKinnon, Leslie Jones, Jon Daly, Ken Marino, Daniel Zacapa, Tom Werme, Njema Williams, Nils Cruz, Michael Fraguada, Christian Gonzalez, Candace Blanchard, Karsten Friske, Dallas Edwards, Barry Ratcliffe, Shelton Grant, Laura Palka, Reegus Flenory, Wynn Reichert, Jill Jane Clements, Joseph S. Wilson, Jee An, Rhoda Griffis, Nicole Dupre Sobchack, Vincent Garcia, Eizzil Cintrón Valenzuela, Matt Corboy, Anne Johnson, Timothy Timms, Beth Adams, Andrea Alcorn, Jay Amor, Mandi Beers, Kelly Borgnis, J. William Brown, Miller Carbon, John Carter, James Coburn, Bonnie Cole, Danny Comden, Cowboy, David L. Craig, David Lee Craig, Tyler Craig, Tania Cuzmenco, Jason Michael Elliott, Cameron Feimster, Willie Tyrone Ferguson, Derwin Frank, Christopher Donald Gallagher, Fred Galle, Brent Gribble, Josué Gutierrez, Keya Hamilton, Keith Paul Hunter, Jim Keisler, Christy Konnick, T.J. Lyell, Corey Maher, Gabriel Manak, Chris Matheny, Robert McRary, Brenda Moss-Clifton, Allegra Nova, Kevin J. O'Connor, Paul Pillsbury, Joey Popp, Diezel Ramos, Kerry Rossall, David N. Russell, John Rutland, Marlo Scheitler, Wil Smith, Ron Stafford, Kelly Tippens, Kathy Walton, Trinity Whiteside
show all
"Masterminds" Quotes 14 quotes
"You farted right into my butt hole. It's like a fart transplant."




"- Mike McKinney: I got another job.
- David Ghantt: No kiddin', what are you doin'?
- Mike McKinney: Tax preparation.
- David Ghantt: Oh, are ya? That's nice.
- Mike McKinney: Naw, I'm just foolin'. It's gonna be more murder."


"Sometimes the only way out... is through."




"- David Ghantt: What should I call you, sir?
- Steve: Nothing. You don't ever need to see me or know my name. You can refer to me as Geppetto.
- David Ghantt: Geppetto?
- Steve: Yeah, Geppetto. As in Pinnochio. As in, I pull the strings.
- David Ghantt: I think he means Stromboli.
- Steve: What did you call me?
- David Ghantt: Nothin'. I just..."

(continue)

(continue reading)




"I'd rob a funeral home for you."




"I look like if Jesus and a cat had a baby."


"Look at him. He looks like Kenny Rogers and Kenny Loggins had a lovechild... and then Kenny G, he just showed up to the birthday party, started playin' the flute, and messed this boy up."

"- Kelly: We could hop on over to Brazil. You ever been to Rio?
- David Ghantt: I've never even been to the airport but about twice in my life.
- Kelly: Oh, it's a real magical place.
- David Ghantt: Yeah. All those planes landin' and takin' off and such.
- Kelly: No, Rio.
- David Ghantt: Oh, Rio, yeah, yeah."


"- Jandice: A couple years back, I was at a youth praise concert at church, and I saw the most handsome man that I had ever seen in the world. He was looking right at me. We went on a date, and then we fell very, very, very, very, very, very, very, very deeply in love. And then he died. Snake bite. At his funeral, I was very, very distraught. I..."

(continue)

(continue reading)




"Steve was a petty thief, mostly known for stealing tiny wheelchairs from pediatric hospitals."


"I'm starting to feel like a corn dog at a hot dog party, and it ain't flattering, I'll tell you that."


I guess this is "Hasta la muerte".