"guardian, the" quotes
(2006)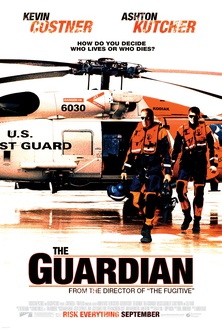 Title guardian, the
Original title The Guardian
Year 2006
Director Andrew Davis
Genre Drama, Adventure, Action

All actors – Kevin Costner, Ashton Kutcher, Sela Ward, Melissa Sagemiller, Clancy Brown, Omari Hardwick, Alex Daniels, Daniel J. Molthen, Andrew Schanno, Adam Pena, Joe Arquette, Gary Billburg, Joshua Mitcheltree, Rusty Tennant, James Barnes, Stephanie Barnes, Andrea Martynowski, Ron Fien, Nevada Smith, Jay Bingham, Keith Sweitzer, Shane Walker, John Heard, Neal McDonough, Joseph 'Butch' Flythe, Robert E. Watson, John F. Hall, Johnell Gainey, Jeff Loftus, Brian Geraghty, Dulé Hill, Shelby Fenner, Michael Rady, Peter Gail, Brian Patrick Wade, Benjamin Ciaramello, Travis Willingham, Matt Laub, Matthew L. Rucker, Tanica Jamison, Paul Wallace, Tilky Jones, Megan Melgaard, Scott Mueller, Jacob Stevens, Austin Lash, Mark Gangloff, Damon Lipari, Roger Edwards, Gregory J. Barnett, Kenny G. Krauss, Gioacchino Brucia, J.D. Evermore, Bryce Cass, Bonnie Bramlett, Richard Davis, James Burton, Tony Brown, Wendall Wayne Stewart, Chris 'Hambone' Cameron, Mark Ohlsen, Gene Barge, Steve Eisen, Josie Aiello, Devin Thompson, Tina Treadwell, Corinne Van Ryck de Groot, Greg Sproles, Ron Dean, Brandon Molale, James Landers, August Kincaid, Jesse De Villa, Eric Norris, Leigh Hennessy, Tanner Gill, Norm Compton, Donald Fisher, Yoshio Iizuka, Thomas Rosales Jr., Tony Snegoff, Vladimir Tevlovski, Henry Kingi Jr., Dorian Kingi, Deborah Boone, Roxanne A. Brooks, Conrad E. Palmisano, Michael James, Danny Cosmo, Gene Hartline, John Rottger, Heather Bloom, Dodie Brown, Ray Donn, Zachary Flores, Shun Hagins, Tim Hickey, Derek Wayne Johnson, Cynthia Riser, Delmaine Samuel
show all
"guardian, the" Quotes 15 quotes
"There is a legend of a man who lives beneath the sea. He is a fisher of men, the last hope of all those who have been left behind. Many survivors claim to have felt his gripping hands beneath them; pushing them up to the surface; whispering strength until help could arrive. But this, of course, is only a legend."


"- Jake Fischer: When you can't save 'em all, how do you choose who lives?
- Ben Randall: It's probably different for everybody Jake. It's kind of simple for me though. I take the first one I come to or the weakest one in the group and then I swim as fast and as hard as I can for as long as I can. And the sea takes the rest."


"- Ben Randall: When the heck did we get old?
- Maggie McGlone: I've always been old. I mean if my muscles ache, it's because I've used 'em. It's hard for me to walk up them steps now, its 'cuz I walked up 'em every night to lay next to a man who loved me. I got a few wrinkles here and there, but I've layed under thousands of skies with sunny days."


"Save the ones you can. The rest, you've got to let go."

"- Jake Fischer: It doesn't matter what I do. It's just not good enough.
- Emily Thomas: Maybe he's just trying to push you to be better. We teachers do that to the ones we believe in."

"There will come a time when you might have to decide who lives and dies out there. It's a terrible responsibility but it's one you will have to make as a rescue swimmer. The bigger reality is also something you are going to have to live with as a human being."




"You have a gift. You're the best swimmer. But you know what I see when I look at it? I see someone fast enough who's going to get there first. I see someone strong enough who's going to last. I see someone who can save a life maybe no one else could. You really want to honor the initials on your arm? Then honor your gift."




"The only difference between you and me is that I don't wear the ones I lost on my arm. I know where you are Jake. I'm there myself. I ask myself everyday why I was the one who survived."

"We are the Coast Guard's elite. We are the best of the best. When storms shut down entire ports, we go out. When hurricanes ground the United States Navy, we go out. And when the Holy Lord himself reaches down from heaven and destroys His good work with winds that rip houses off the ground, we go out."


"I look and feel this way, well cuz I drank and I smoked. I lived and I loved, danced, sang, sweat and screwed my way thorough a pretty damn good life. Getting old ain't bad. Getting old, that's earned."

"If by some miracle you actually have what it takes to become one of us, then you get to live a life of meager pay with the distinct possibility of dying slow, cold and alone somewhere in the vast sea. However, you also get the chance to save lives, and there is no greater calling in the world than that."




"What makes a legend? Is it what someone did while they were alive? Or how they're remembered after they're gone?"




"I'm here to save lives."

There will come a time when you will have to say no. The most important person to keep alive is yourself. You'll be facing crews from 5 to 20 all saying "Save me, save me". They're looking for a miracle. You have to find a way to be that miracle.