"Hitch" quotes
(2005)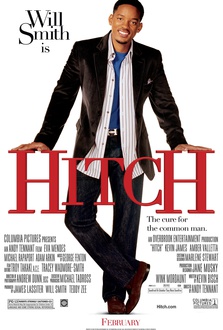 Title Hitch
Year 2005
Director Andy Tennant
Genre Comedy, Romance

Plot – Alex "Hitch" Hitchens is a famous "consultant" in New York, who helps men upon payment to seduce the woman of their dreams. He gives behavioral lessons to Albert, a meek accountant, who is in love with the famous and charming Allegra Cole. Meanwhile, Hitch meets Sara Melas, a gossip column journalist who follows Allegra everywhere.
All actors – Will Smith, Eva Mendes, Kevin James, Amber Valletta, Julie Ann Emery, Adam Arkin, Robinne Lee, Nathan Lee Graham, Michael Rapaport, Jeffrey Donovan, Paula Patton, Philip Bosco, Kevin Sussman, Navia Nguyen, Matt Malloy, Maria Thayer, Ato Essandoh, Marlyne Barrett, Jack Hartnett, David Wike, Frederick B. Owens, Jenna Stern, Austin Lysy, Adam LeFevre, Joe Lo Truglio, Ptolemy Slocum, Kahan James, Matt Servitto, Amy Hohn, Mimi Weddell, Maulik Pancholy, Caprice Benedetti, Tony Travis, Mercedes Renard, Jose Llana, Niels Koizumi, Chris Santos, Ryan Cross, Tobias Truvillion, Jeffrey Carlson, Henry Haile, Rain Phoenix, Remy K. Selma, Beau Sia, Mika Nishida, Trevor Oswalt, Darrell Foster, Douglas J. Aguirre, Alba Albanese, Anthony Amodeo, Casper Andreas, Anya Avaeva, Brielle Barbusca, Adam Bertocci, Andre Blair, Aneikit Bonnel, Keith Chambers, Valbona Coba, Thomas Daniel, Maria-Jose Davo, Vincent De Paul, Michelle Deighton, Cesar Di Parra, Michelle DiBenedetti, Mike Fitzgerald, Alexandra Gizela, Darryl Reuben Hall, Scott Hatfield, Lou Irizarry, Shane Warren Jones, Rick Kain, Arnold Y. Kim, Bill Kotsatos, Alexa Lane, Debbie Lang, Evan Leone, Joanna Lu, Bobby Lundon, Rebecca Mader, Brewster McCall, Tanda Mercer, Amy Metroka, Kevin Kean Murphy, John O. Nelson, Dwight Allen O'Neal, Jennifer Pedersen, Nick Poltoranin, Nicolas Quilter, Dawn Ressy, Trevor Richardson, Amro Salama, Michalina Scorzelli, Jennifer Scott, Cameron Stevens, Jaclyn Tommer, Tim Tyrrell, Keri Uribe, Olivia Weston, Kyle Willshire, Joe Wissler, Alexander Wraith, Shane Wright, Mike Yedwab, Dianne Zaremba
show all
"Begin each day as if it were on purpose."




"You know what it's like getting up every morning feeling hopeless, feeling like the love of your life is waking up with the wrong man? But, at the same time, hoping that she still finds happiness, even if it's never going to be with you?"


"- Albert: You know, honestly, I never knew I could feel like this. You know? I swear I'm going out of my mind. It's like I want to throw myself off of every building in New York. I see a cab and I just wanna dive in front of it because then I'll stop thinking about her.
- Hitch: Look, you will. Just give it time.
- Albert: That's just it. I..."

(continue)

(continue reading)




"- Max: Spoken like a true cynic.
- Sara: I'm not a cynic, I'm a realist!
- Max: Or a realist masquerading as a cynic who is secretly an optimist."


"Basic principles: no matter what, no matter when, no matter who... any man has a chance to sweep any woman off her feet. He just needs the right broom."


"- Sara: Listen, Chip, I understand the courage it takes to walk across a room and try to generate a relationship out of thin air, so don't take the following personally...
- Chip: You have fantastic eyes.
- Sara: Thanks, try to listen. I..., this is no reflection on you, I'm just not interested. But thank you for the compliment of coming over.
-..."

(continue)

(continue reading)




"If he's stupid enough to cheat, the world should know he's dumb enough to get caught."


"Life is not the amount of breaths you take, it's the moments that take your breath away."


"So how does it happen, great love? Nobody knows, but what I can tell you is that it happens in the blink of an eye. One moment you're enjoying your life, and the next you're wondering how you ever lived without them."


Basic principles: no woman wakes up saying "God, I hope I don't get swept off my feet today!". Now, she might say, "This is a really bad time for me", or something like "I just need some space" or, my personal favorite, "I'm really into my career right now". You believe that? Neither does she. You know why? Because she's lying to you, that's why.