"Ice Age: The Meltdown" quotes
(2006)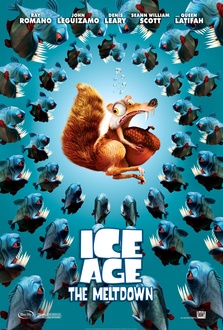 Title Ice Age: The Meltdown
Year 2006
Director Carlos Saldanha
Genre Sci-Fi, Comedy, Romance, Adventure, Family, Fantasy, Animation, Action

Plot – The Ice Age is ending and the animals' territories are going to melt. The tiger, the sloth and the mammoth discover that melted ice will flood their valley and raise the alarm.
All actors – Ray Romano, John Leguizamo, Denis Leary, Seann William Scott, Josh Peck, Queen Latifah, Will Arnett, Jay Leno, Chris Wedge, Peter Ackerman, Caitlin Rose Anderson, Connor Anderson, Joseph Bologna, Jack Crocicchia, Peter DeSève, Nicole DeFelice, Debi Derryberry, Marshall Efron, Tom Fahn, Jason Fricchione, James Edmund Godwin, George Jacobs, Clea Lewis, Brian Scott McFadden, Jansen Panettiere, Gregory Romano, Matthew Romano, Stephen Root, Carlos Saldanha, Manoela Scarpa Saldanha, Sofia Scarpa Saldanha, Reyna Shaskan, James Sie, Cindy Slattery, Mindy Sterling, Alex Sullivan, Renée Taylor, Alan Tudyk, Emily Anderson, Jack Angel, Shane Baumel, Bob Bergen, Claudia Besso, Kyle J. Bogert, Rodger Bumpass, Paul Butcher, Blanca Camacho, John Cygan, Jennifer Darling, Olivia DeLaurentis, Harrison Fahn, Bill Farmer, Crispin Freeman, Spencer Lacey Ganus, Jess Harnell, Tim Kirkpatrick, David H. Kramer, Sherry Lynn, Danny Mann, Laura Marano, Madeleine Martin, Matthew P. McCarthy, Mickie McGowan, Laraine Newman, Jan Rabson, Zack Shada, Thomas Sharkey, Ross Simanteris, Rachel Diaz-Stand, Ariel Winter
show all
"Ice Age: The Meltdown" Quotes 11 quotes
"- Sid: Maybe we could rapidly evolve into water creatures.
- Diego: That's genius, Sid.
- Sid: Call me Squid."

"- Eddie: What if we're the last creatures left alive? We'll have to repopulate the Earth.
- Crash: How? Everyone is either a dude or our sister."


"The five day outlook is calling for intense flooding followed by... the end of the world!"




"There is some good news, though. The more of you die, the better I eat. I didn't say it was good news for you."




"Manny, you've come a long way since we first met, and I'll take the credit for that, but you need to let go of the past so you'll have a future."


- Manny: So, you think she's the girl for me?
- Sid: Oh, yeah, she's tons of fun, and you're no fun at all. She "completes" you.