"Sexy Beast" quotes
(2000)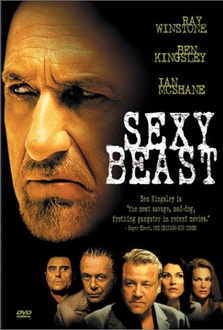 Title Sexy Beast
Year 2000
Director Jonathan Glazer
Genre Crime, Thriller

Plot – Gary is a former prisoner and has served his sentence. Now he enjoys a holiday with Dee Dee, but one day a huge rock falls into his pool. Gary thinks it's a warning from Don Logan, a former friend who wants him to participate to a robbery.
All actors – Ray Winstone, Ben Kingsley, Ian McShane, Amanda Redman, James Fox, Cavan Kendall, Julianne White, Álvaro Monje, Robert Atiko, Nieves Oruet del Amo, Enrique Alemán Fabrega, Gérard Barray
show all
"Sexy Beast" Quotes 16 quotes
"- Aitch: With this pill, they say you take it and that's it. Your hair don't grow, you don't go bald, it stays the same. You have your hair cut once, in whatever style you want, and it stays like that for the rest of your natural life. It's completely revolutionary.
- Jackie: What if you get fed up with your style, you berk?
- Aitch: Well,..."

(continue)

(continue reading)




"I love you like a rose loves rainwater, like a leopard loves its partner in the jungle, like... I don't know what like."

People say: "Don't you miss it, Gal?". I say: "What, England? Nah. Fucking place. It's a dump. Don't make me laugh. Grey, grimy, sooty. What a shit hole. What a toilet. Every cunt with a long face shuffling about, moaning, all worried. No thanks, not for me". They say: "What's it like, then, Spain?". And I'll say: "It's hot. Hot. Oh, it's...

(continue)

(continue reading)




"- Teddy Bass: What are you staring at?
- Harry: The back of your head.
- Teddy Bass: Well don't. Stare at the back of your own fucking head."


"You're giving too much of yourself away, mate."

"- Don: Talk to me, Gal. I'm here for you. I'm a good listener.
- Gal: What can I say, Don? I've said it all. I'm retired.
- Don: Shut up."


"You got very nice eyes, DeeDee. Never noticed them before. They real?"




"Where there's a will - and there is a fucking will - there's a way - and there is a fucking way."




"Bloody hell. I'm sweating in here. Roasting. Boiling. Baking. Sweltering. It's like a sauna. Furnace. You can fry an egg on my stomach. Oh, who wouldn't lap this up? It's ridiculous. Tremendous. Fantastic. Fan-dabby-dozy-tastic."


"You were right, Don. Technically speaking, you were right. But you're dead. So shut up."


"- Don: I fucked Jackie. Fucked her. Ask her, she'll tell you. I fucked her.
- Aitch: Yeah. Well, I've fucked you now, haven't I?"

"Quite frankly your attitude appalls me. It's not what you're saying. It's all this stuff you're not saying. Insinuendos."




- Gal: This is madness, I've had enough of this "Crime and Punishment" bollocks. I'm happy here.
- Don: I won't let you be happy, why should I?