"Still Crazy" quotes
(1998)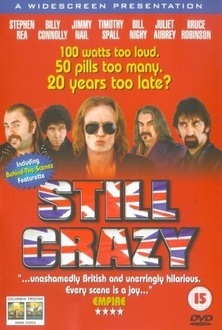 Title Still Crazy
Year 1998
Director Brian Gibson
Genre Comedy, Romance, Music

All actors – Stephen Rea, Billy Connolly, Jimmy Nail, Timothy Spall, Bill Nighy, Juliet Aubrey, Helena Bergström, Bruce Robinson, Hans Matheson, Rachael Stirling, Phil Daniels, Philip Davis, Frances Barber, Zoë Ball, Virginia Clay, Luke Garrett, Sean McKenzie, Rupert Penry-Jones, Matthew Finney, Alex Palmer, Gavin Kennedy, Lee Williams, Andy Nichol, Francis Magee, Justin Grattan, Delroy Atkinson, Julian Sims, Peter Baynham, Margaret Blakemore, Candida Gubbins, Alphonsia Emmanuel, Mikayla Jones, Jason Green, Christopher Wild, Dean Lennox Kelly, Mackenzie Crook, Donna Air, Ralph Van Dijk, Sabina Michael, Steve Ubels, Danny Webb, Anita Carey, David Henry, Daisy Donovan, Bruce Byron, Jeffrey Harmer, Sheila Reid, Leelo Ross, Brian Capron, Luke D'Silva, Eric Jorrin, Taylor Murphy, Rebecca Promitzer, Anneka Svenska
show all
"Still Crazy" Quotes 10 quotes
- Luke Shand: What happened at Sunderland?
- David "Beano" Baggot: He tried to slash his wrists with my Swiss army knife.
- Les Wickes: Yeah, he'd never find the blade.

- David "Beano" Baggot: You were engaged to a Guinness heiress, wasn't it?
- Tony Costello: Yeah, but they paid me to go away.


"History teaches us that men behave wisely once they've exhausted all other alternatives. For most rock bands, the pursuit of wisdom's a low priority compared to fame, fortune and fornication."


"- Karen Knowles: Tell me Astrid, how are Kirby, Steele and Oakes?
- Astrid Simms: I don't listen to their music.
- Karen Knowles: They're your estate agents, the ones trying to offload Wuthering Heights, so don't pretend you don't need this.
- Astrid Simms: You are a bloody nosy bitch Karen, and also a slut. I remember Isle of Wight."


"- Hughie: Would you like a hit?
- Karen Knowles: I haven't done that in years.
- Hughie: Now would be a very good time to start."

- Ray Simms: Beano, you are definitely our strongest link to the past. In all the time I've known you man, spirtually, emotionally there's been like zero growth. You're what they call a "flat liner".
- David "Beano" Baggot: Well it's better than being a wanker!