"Lemony Snicket's A Series of Unfortunate Events" quotes
(2004)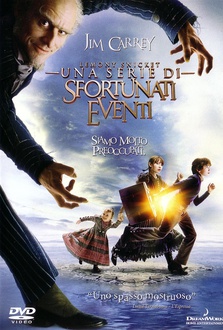 Title Lemony Snicket's A Series of Unfortunate Events
Original title A Series of Unfortunate Events
Year 2004
Director Brad Silberling
Genre Comedy, Adventure, Family

Plot – Three orphans - Violet, Klaus and Sunny - inherit a significant amount of money. The evil Count Olaf pursues them and sneakily plans to become rich by killing the kids and their wards. However, the guys are clever: Violet invents extraordinary machines, Klaus is a tenacious reader and Sunny bites everything.
All actors – Jim Carrey, Liam Aiken, Emily Browning, Kara Hoffman, Shelby Hoffman, Jude Law, Timothy Spall, Catherine O'Hara, Billy Connolly, Meryl Streep, Luis Guzmán, Jamie Harris, Craig Ferguson, Jennifer Coolidge, Jane Adams, Cedric the Entertainer, Bob Clendenin, Lenny Clarke, Fred Gallo, John Dexter, Deborah Theaker, Wayne Flemming, Jaimarie Bjorge, Helena Bonham Carter, Amy Brenneman, Paul Bunnell, Julius Callahan, François Duhamel, Rosemary Garris, Gilbert Gottfried, Paul G. Gray, Rick Heinrichs, Alan Heitz, Rob Hinderstein, Dustin Hoffman, Michael Earl Lane, Jane Lynch, Betsy McIntyre, Nick Meaney, Christopher Metas, Crystal Rivers, Lidia Sabljic
show all
"Lemony Snicket's A Series of Unfortunate Events" Quotes 15 quotes
"If you have ever lost someone very important to you, then you already know how it feels; and if you haven't, you cannot possibly imagine it."


"- Violet: Dinner is served. Puttanesca.
- Count Olaf: What did you call me?
- Klaus: It's pasta... Pasta Puttanesca."


"I will raise these orphans as if they were actually wanted!"




"First impressions are often entirely wrong."




"What might seem to be a series of unfortunate events may, in fact, be the first steps of a journey."

"- Klaus: This is ridiculous! Violet's only 14! She can't be legally married!
- Count Olaf: She can if she has the permission of her guardian. And who's that? Oh, yes. Me!"


"Doesn't it strike you odd that none of our relatives are related to us?"

Little girl, the big cage door is open. No snake. Dead guy. You know what I'm thinking? I'm thinking, "Who woke me up at nine in the morning for this?".