"The Bone Collector" quotes
(1999)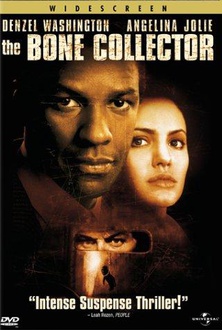 Title The Bone Collector
Year 1999
Director Phillip Noyce
Genre Drama, Crime, Thriller, Mystery

Plot – An unusual gothic New York is the set of numerous brutal murders of a serial killer. Fierce and enigmatic, the murderer puts a strain on the homicide squad, forced to ask help to Rhyme, a brilliant agent at rest, stuck in bed for a quadriplegia caused by a bullet. Using the only finger of the hand he can move, Rhyme uses a computer that keeps him alive and in touch with the world. The agent reluctantly investigates until a young agent becomes his operational arm.
All actors – Denzel Washington, Angelina Jolie, Queen Latifah, Michael Rooker, Michael McGlone, Luis Guzmán, Leland Orser, John Benjamin Hickey, Bobby Cannavale, Ed O'Neill, Richard Zeman, Olivia Birkelund, Gary Swanson, James Bulleit, Frank Fontaine, Zena Grey, Daniel Brochu, Desmond Campbell, Christian Veliz, Mercedes Gómez, Mary Hammett, Amanda Gay, Steve Adams, Larry Day, Burke Lawrence, Terry Simpson, Eric Davis, Arthur Holden, Yahsmin Daviault, Keenan Macwilliam, David Warshofsky, Mateo Gómez, Ted Whittall, Peter Michael Dillon, Jonathan Stark, Fulvio Cecere, Hal Sherman, Russell Yuen, Andy Bradshaw, Jean-Marc Bisson, Christopher Bregman, Sonya Biddle, Michael Arthur, Phillip Noyce, Todo Segalla, Andrew Semple, Sylvia Stewart
show all
"The Bone Collector" Quotes 10 quotes
"Maybe he's trying to share the responsibility of these murders with us. If we don't figure out the clues in time, the blood's on our hands. If we don't find the victim in time, we're as responsible for the murders as he is."

"Just trust me. Just follow those instincts you were born with. I'll be with you... every step of the way."

"There are five basic contaminants in a crime scene. I'll skip to the worse one. Other cops."


"Destiny is what we make it."




- Amelia Donaghy: Thelma told me about your plans for your "final transition".
- Lincoln Rhyme: Cop to cop, that subject's not open to discussion. Why?... Would you miss me?
- Amelia Donaghy: Well, destiny's what we make it, right?
- Lincoln Rhyme: Touche.
- Amelia Donaghy: Now, you seem to have your reasons for checking out.