"Down To Earth" quotes
(2001)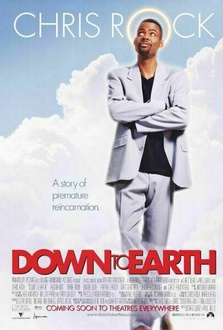 Title Down To Earth
Original title Down to Earth
Year 2001
Directors Chris Weitz, Paul Weitz
Genre Comedy, Fantasy

Plot – Lance Barton is an aspiring black comedian who is about to make his dream come true: to become famous by taking part to the finals of an amateur actors' competition at the 'Apollo Theatre'. However, he gets ran over by a bus while he is on his way. He arrives in Paradise, where he finds out that his death was a mistake: he is going to live for other 50 years! A couple of angels, Mr. Keyes and Mr. King, tries to fix the mess and decides to send him back on Earth. Here, another problem comes out: they have to find a body for the poor Lance because he cannot use his former one. They choose to take the rich Charles Wellington's one. With his new aspect and patrimony, Lance falls in love with the beautiful Sontee, while he has to deal with the terrible assistant and his wife that are planning to kill him.
All actors – Chris Rock, Regina King, Chazz Palminteri, Eugene Levy, Frankie Faison, Mark Addy, Greg Germann, Jennifer Coolidge, Wanda Sykes, John Cho, Mario Joyner, Bryetta Calloway
show all
"Down To Earth" Quotes 11 quotes
"- Sontee Jenkins: What kind of man are you?
- Lance Barton: Sounds like I'm an asshole!"


"Shut up before I crush you with my wallet!"




"When I was a kid, we were so poor... that the roaches was on welfare."


My father's so cheap... that when we went to bed, he'd unplug the alarm clocks. "You can't tell time when you are asleep".


"If you're good looking, you're gonna succeed through life. If you're ugly, you better pick up a book. Boy, you better pick up two books, and a computer while you're at it!"


"There's a big rap concert in the Bronx tonight. Somebody's gonna die."


You know, the first kiss is always in the middle of a sentence. It's always like, "Tomorrow I'm going to the zoo to see the monkeys and...".