"Smokey and the Bandit II" quotes
(1980)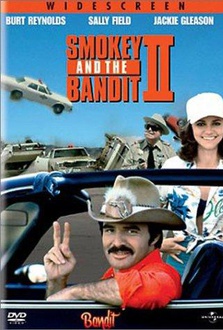 Title Smokey and the Bandit II
Year 1980
Director Hal Needham
Genre Comedy, Action

Plot – To win the elections in Texas, Enos senior and Enos junior hire Snowman Cledus, the best trucker around, to deliver to the governor a mysterious "package". Snowman has to drive from Miami to Austin and he needs the support of the "Bandit", a country singer. The biggest surprise however is the content of the package.
All actors – Burt Reynolds, Jackie Gleason, Jerry Reed, Dom DeLuise, Sally Field, Paul Williams, Pat McCormick, David Huddleston, Mike Henry, John Anderson, Brenda Lee, Phil Balsley
show all
"Smokey and the Bandit II" Quotes 17 quotes
"- 'Bandit': Who did it?
- Cledus Snow: Don't look at me.
- Doc: Probably another elephant.
- 'Bandit': I know that, when did it happen?
- Doc: Long time ago."

"- Buford T. Justice: As you can see, Bandit, I've got my piece in my hand.
- 'Bandit': You've got your what in your hand?"

"If you ever embarrass me like that again I'm gonna get an ax, and you're never gonna have to open your fly again."

"- Carrie: That is it for you! You have had it! You're hooked! You're a fame junkie! They should give you intravenous feedings of People magazine and National Enquirer headlines! And if you're a real good boy, they'll give you a Tonight Show enema!
- 'Bandit': What is the matter?
- Carrie: And if you weren't so dumb, they'd put you on Cross-Wits!"

"- 'Bandit': She's as strong as an ox.
- Doc: She is strong as an ox, now she has to get strong as an elephant."

"- Cledus Snow: Doc, I thought I loved him too much to do that to him.
- 'Bandit': Obviously not."

"Excuse me sir, but your ass is on fire. I bet you can't wait to get back home to Canada and stick it in the snow."


"- Junior: Daddy, I got to pee-pee.
- Buford T. Justice: Swallow it. I'm busy!"


"- 'Bandit': We're talking about $400,000, do you understand that? This is our last chance! $400,000!
- Cledus Snow: I understand $400,000 and I would like to get my share of $400,000, but I ain't gonna kill an elephant to get it."


"- Junior: Daddy, I like this place. All the 'gators and snakes and stuff. Why don't we move down here?
- Buford T. Justice: Why don't you move down here?
- Junior: Oh no, Daddy, I ain't never leavin' home, that's a promise.
- Buford T. Justice: Don't you ever, ever threaten yo' daddy like that again!"


"Cledus has a heart, he cares about something other than himself."




"- 'Bandit': Cledus, you've gotten taller.
- Cledus Snow: Yes, and you've gotten drunker. This place looks like a shithouse!"

"If Junior is able to get up in the morning, tie his shoelaces and take a pee, I'm not proud. I'm amazed."


Let's face it, Sinatra sang "My Way" and you sang "Let's Do Something Cheap and Superficial".