"1941" quotes
(1979)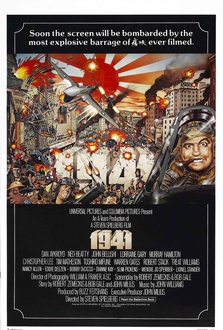 Title 1941
Year 1979
Director Steven Spielberg
Genre Comedy, War, Action

Plot – A few days after Pearl Harbor attacks, in Los Angeles the Japaneses are supposed to be preparing an offense against United States. A Japanese submarine is indeed trying to locate Hollywood to attack it and the city goes in panic. In the end the submarine launches a torpedo and leaves.
All actors – Dan Aykroyd, Ned Beatty, John Belushi, Lorraine Gary, Murray Hamilton, Christopher Lee, Tim Matheson, Toshirô Mifune, Warren Oates, Robert Stack, Treat Williams, Nancy Allen
show all
"- Col. 'Madman' Maddox: Winowski, a little tall for a Jap, wouldn't you say?
- Winowski: Yeah, but those Japs are sneaky bastards, sir. You never know.
- Col. 'Madman' Maddox: You're right. Check him for stilts."


"- Capt. Loomis Birkhead: I tell ya, DuBois, there are drawbacks to being a general's aide. I mean, the general could have been a few minutes later, now couldn't he?
- Pvt. DuBois: Well, it is wartime, sir, we all have to make sacrifices."

"- Ward Douglas: My girlfriend was there, because... There was this wild man there and she...
- Maj. Gen. Joseph W. Stilwell: Son, is this a long story?
- Ward Douglas: Yes, sir.
- Maj. Gen. Joseph W. Stilwell: Well, then, save it."


"- Cmdr. Akiro Mitamura: All of our navigational equipment is inoperable. It's all crap! What kind of submarine did your government sell us?
- Capt. Wolfgang von Kleinschmidt: The instruments on this vessel are the finest Swiss-made. The problem is with your crew. Even children in the Hitler youth learn by the age of ten how to operate a simple..."

(continue)

(continue reading)




"You ain't gettin' shit out of me. I've been constipated all week and there ain't a damn thing you can do about it!"




"- Maj. Gen. Joseph W. Stilwell: What was that?
- Pvt. DuBois: Appears to be a large Negro, sir."

"- Cmdr. Akiro Mitamura: Ito, take a landing party ashore and determine our position!
- Capt. Wolfgang von Kleinschmidt: Captain, you are insane.
- Cmdr. Akiro Mitamura: These men are the descendants of Ninja Assassins. They will find Hollywood!"


"There's a Kraut on board too. We got the whole damn Axis here."

"If there's one thing I can't stand seeing, it's Americans fighting Americans."




"You can't have an air raid without bombs!"




"Dumbo". Sure be good to get my mind off things for a while.

"Now, wait a minute General! I'm doin' the best I can. You've got to tell these guys that I got to have a little bit more privacy. Shoot, how in the hell do you expect a guy to take a bowel movement with a bunch of buffalo rifles a-pointin' at him? Shoot, I have enough problems just pissin' in a public restroom."




"We've got to figure out how to make these things smaller!"

"This time we win or we die trying."




"- Capt. Loomis Birkhead: Sir, you don't have any bombers here, do you, sir?
- Col. 'Madman' Maddox: Bombers? Son, if I had bombers I'd be bombin' the hell out of them right now!"


"Bombs! I don't hear any bombs! Now they're up there. They came all the way from Asia. Don't you think they'd bring a few bombs along?"


"Ladies and gentlemen, every where I look... soldiers are fighting sailors, sailors are fighting Marines! Directly in front of me, I see a flying blond floozy! Everywhere I look... everywhere, pure pandemonium... pandemonium!"

- Capt. Wolfgang von Kleinschmidt: The Führer was right! There is no place in the Third Reich for you yellow swine!
- Cmdr. Akiro Mitamura: You can take your "Third Reich" and shove it up your ass!