"Bachelor Party" quotes
(1984)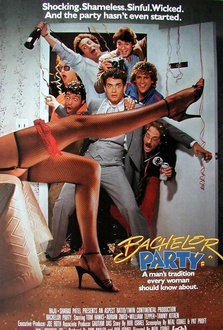 Title Bachelor Party
Year 1984
Director Neal Israel
Genre Comedy

Plot – Rick, a young school bus driver, decides to get married. His friends are crazy and jovial guys and want to celebrate his bachelor party in the luxuriest hotel of the city, partying with alcohol, music and girls. Debbie, Rick's girlfriend, isn't entirely convinced about their plan, but Rick promises her not to run wild. On the other hand, Debbie as well is organizing her party with her best friends, but her former boyfriend Cole is managing to ruin everything.
All actors – Tom Hanks, Tawny Kitaen, Adrian Zmed, George Grizzard, Barbara Stuart, Robert Prescott, William Tepper, Wendie Jo Sperber, Barry Diamond, Gary Grossman, Michael Dudikoff, Bradford Bancroft
show all
"Bachelor Party" Quotes 11 quotes
"- Rick Gassko: Diagnoses?
- Dr. Stan Gassko: Medically speaking?
- Rick Gassko: Yes.
- Dr. Stan Gassko: Whacked out of his brains on drugs."


"- Cole Whittier: Mr. Thompson... Mrs. Thompson... Debbie... and...
- Rick Gassko: Bond. James Bond."

"I wish I had someone I could really respect. Hey, look at the cans on that bimbo!"




"- Gary: Are you the pimp?
- Rajah: Yes.
- Gary: You look like Gandhi!
- Rajah: I've got girls to sit on your face."


Attention, passengers, we are now leaving Nun Central and are beginning our journey to Hell and beyond. The captain has turned off the "no smoking" sign, and you may now move about the cabin freely.
[kidsstart screaming, reading "Playboy", and gambling]
Thank you for being Catholic, and for choosing the Saint Gabriel's School Bus.