"The Ghost and the Darkness" quotes
(1996)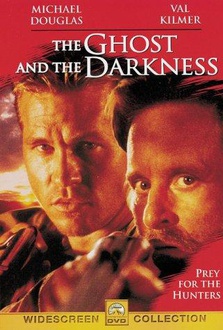 Title The Ghost and the Darkness
Year 1996
Director Stephen Hopkins
Genre Drama, Horror, Thriller, Adventure

Plot – In 1898 John Patterson, an engineer and designer, is sent to Africa to follow closely and quickly finish the construction of roads and connecting bridges for the transportation of goods. Shortly after arriving, he realizes that a great danger looms over the area: two ferocious lions in the throes of an uncontrollable fury occasionally come close to the workplaces and kill some workers. The natives are frightened and quickly spread the legend of the invincibility of the two animals. Patterson understands that the lions should be eliminated if he wants to change the situation, but he does not have the necessary help and so calls Remington, a known hunter of wild animals. Thus begins a battle based mainly on the firmness of nerves and accuracy of moves. The lions, nicknamed Spirit and Darkness, do not just defend themselves but take aim at the two men. Only after much effort and when Remington is killed, Patterson manages to get the better of the beasts and makes everyone understand that the macabre prophecy about the site of the massacre will not come true. But even today, Spirit and Darkness continue to power many legends in much of the African continent.
All actors – Michael Douglas, Val Kilmer, Tom Wilkinson, John Kani, Bernard Hill, Brian McCardie, Emily Mortimer, Om Puri, Henry Cele, Kurt Egelhof, Satchu Annamalai, Teddy Reddy
show all
"The Ghost and the Darkness" Quotes 18 quotes
"- Samuel: You like her?
- Col. John Henry Patterson: Very much.
- Samuel: I don't like any of mine."

"You build bridges, John. You have to go where the rivers are."




"If you want to see the lions today, you must go to America. They are at the Field Museum in Chicago, Illinois. Even now, if you dare lock eyes with them, you will be afraid."


"What better job in all the world than build a bridge? Bring land over water. Bring worlds together."




"- Col. John Henry Patterson: You don't enjoy killing, do you?
- Dr. David Hawthorne: Then why do it?
- Charles Remington: Because I've got a gift."

"- Abdullah: I am a man of peace!
- Charles Remington: You sound like a man who wants to live."

"I'm a monster. My only pleasure is tormenting those people who work for me."




"- Col. John Henry Patterson: Have you ever failed?
- Charles Remington: Only at life."


"My life was shaped because someone invented gunpowder, and that's what took me around the world. But the memory that I wanted, that was the family that I lost."




"- Col. John Henry Patterson: I will sort this out. I will kill the lion, and I will build the bridge.
- Abdullah: Of course you will. You're white, you can do anything."


We have an expression in prize fighting: "Everyone has a plan until they've been hit". Well my friend, you've just been hit. The getting up is up to you.