"Alice in Wonderland" quotes
(2010)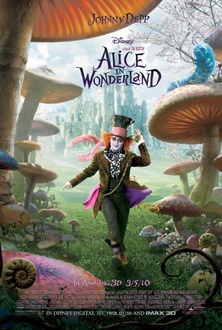 Title Alice in Wonderland
Year 2010
Director Tim Burton
Genre Adventure, Family, Fantasy

Plot – The magic of Walt Disney Pictures and the fantasy of the visionary director Tim Burton created the epic 3D adventure 'Alice in Wonderland', one of the most beloved stories of all time, re-proposed with a new, magical and imaginative point of view. Johnny Depp plays Mad Hatter and Mia Wasikowska plays the nineteen-years-old Alice, who returns to the enchanted world she visited as a child many years ago. There Alice reunites with her childhood friends: the White Rabbit, Tweedledee and Tweedledum, Toperchio, the Caterpillar, the Cheshire Cat and of course the Mad Hatter. Alice embarks on a fantastical journey to find her true destiny and to put an end to the Red Queen's reign of terror. The cast also includes stars as Anne Hathaway, Helena Bonham Carter and Crispin Glover.
All actors – Johnny Depp, Mia Wasikowska, Helena Bonham Carter, Anne Hathaway, Crispin Glover, Matt Lucas, Michael Sheen, Stephen Fry, Alan Rickman, Barbara Windsor, Paul Whitehouse, Timothy Spall, Marton Csokas, Tim Pigott-Smith, John Surman, Peter Mattinson, Lindsay Duncan, Geraldine James, Leo Bill, Frances de la Tour, Jemma Powell, John Hopkins, Eleanor Gecks, Eleanor Tomlinson, Rebecca Crookshank, Michael Gough, Imelda Staunton, Christopher Lee, Mairi Ella Challen, Holly Hawkins, Lucy Davenport, Joel Swetow, Jessica Oyelowo, Ethan Cohn, Richard Alonzo, Harry Taylor, Jim Carter, Frank Welker, David 'Elsewhere' Bernal, Chris Grabher, Caroline Royce, Bonnie Parker, Simone Sault, Leigh Daniels, Carl Walker, Matt Dempsey, Chris Grierson, Dale Mercer, David Lale, John Bass, Nicholas Levy, Patrick Roberts, Phillip Granell, Stephen Giles, Hilary Morris, Jacqueline Tribble, , Amy Bailey, Francesca Bennett, Libby Brien, Sophie-Anna Brough, Michael Chomiak, Parker Contreras, Xavier Declie, Ashli Dowling, Danny Emes, Eric Feliciano, Greg Fellows, Brighid Fleming, Jessica Starr Folger, Brooke Forbes, Jessica Godber, Geoffrey Gould, Daniel Hepner, Jack Kalvan, Lindsay Lane, Regan Licciardello, Janaya Logan, David Matthiessen, Matisse Mazur, Savannah McReynolds, Cortney Palm, Evelyn Rei, Keith Roenke, Mandana Rothschild, Arick Salmea, Chris Sanders, Erin Sharkey, Gary Sievers, Jinny Lee Story, Nick Thomas-Webster, Danielle Van Beest, Austin James Wolff
show all
"Alice in Wonderland" Quotes 20 quotes
Who's to say what is "proper"? What if it was agreed that "proper" was wearing a codfish on your head? Would you wear it?




"To me a corset is like a codfish."




"Sometimes I believe in as many as six impossible things before breakfast."


You used to be much more..."muchier." You've lost your muchness.

"Do you ever wonder what it would be like to fly?"




"- Mad Hatter: Have I gone mad?
- Alice: I'm afraid so. You're entirely bonkers. But I'll tell you a secret. All the best people are."


"Alice, you cannot live your life to please others. The choice must be yours, because when you step out to face that creature, you will step out alone."




"- Alice: This is impossible.
- Mad Hatter: Only if you believe it is."


"- Red Queen: What happened to your clothes?
- Alice: I outgrew them. I've been growing an awful lot lately. I tower over everyone in Umbridge. They laugh at me. So, I've come to you hoping you might understand what it's like.
- Red Queen: My dear girl, anyone with a head that large is welcome in my court. Someone find her some clothes, use the..."

(continue)

(continue reading)




"Arrest that girl for unlawful seduction!"




"- Mad Hatter: Your carriage, my lady.
- Alice: A hat?
- Mad Hatter: Of course. Anyone can go by horse or rail, but the absolute best way to travel is by hat. Have I made a rhyme?"


- Cheshire Cat: What do you call yourself?
- Alice: Alice.
- Cheshire Cat: "The" Alice?
- Alice: There's been some debate about that.
- Cheshire Cat: I never get involved in politics.