"Empire of the Sun" quotes
(1987)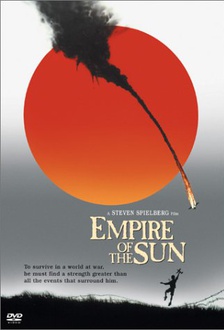 Title Empire of the Sun
Year 1987
Director Steven Spielberg
Genre Drama, History, War

Plot – Eleven-year-old Jim lives in the comfort of the Shanghai's British colony. His favorite hobby is to build toy-planes. When the Japanese invade the city in 1941, Jim gets separated from his parents during the confusion of the escape. Wandering the streets of Shanghai, the boy ends up being arrested by the invaders and sent to a concentration camp with foreigners of all nationalities. Here Jim lives the difficult years of transition from childhood to adolescence: his role models are the wily Basie and the courageous Dr. Rawlins. With imagination and shrewdness, between suffering and play time, Jim is able to overcome this experience. He is even able to build a friendship, more or less remote, with a Japanese boy.
All actors – Christian Bale, John Malkovich, Miranda Richardson, Nigel Havers, Joe Pantoliano, Leslie Phillips, Masatô Ibu, Emily Richard, Rupert Frazer, Peter Gale, Takatarô Kataoka, Ben Stiller, David Neidorf, Ralph Seymour, Robert Stephens, Zhai Nai She, Guts Ishimatsu, Emma Piper, James Walker, Jack Dearlove, Anna Turner, Ann Castle, Yvonne Gilan, Ralph Michael, Sybil Maas, Eric Flynn, James Greene, Simon Harrison, Barrie Houghton, Paula Hamilton, Thea Ranft, Tony Boncza, Nigel Leach, Sheridan Forbes, Peter Copley, Barbara Bolton, Francesca Longrigg, Samantha Warden, Kieron Jecchinis, Michael Crossman, Gary Parker, Ray Charleson, Burt Kwouk, Tom Danaher, Kong-Guo-Jun, Takao Yamada, Hiro Arai, Paul McGann, Marc de Jonge, Susan Leong, Nicholas Dastor, Edith Platten, Shirley Chantrell, John Moore, Ann Queensberry, Sylvia Marriott, Frank Duncan, Ronald Eng, Za Chuan Ce, Shi Rui Qing, Lu Ye, Guo Xue Liang, Ge Yan Zhao, Nina Armstrong, J.G. Ballard, Ken Enomoto, Paul Reynolds
show all
"Empire of the Sun" Quotes 15 quotes
"- Jim: I was dreaming about God.
- Mary Graham, Jim's mother: What did he say?
- Jim: Nothing. He was playing tennis."


"- Maxton: I heard you resigned from the Scouts.
- Jim: I've become an atheist."


"- Jim: Can I have his shoes when he's dead?
- Dr. Rawlins: God you're a pragmatist, Jim."

"It's at the beginning and end of war that we have to watch out. In between, it's like a country club."


"- Dainty: What else you betting with Baise?
- Basie: My LIFE."

"- Basie: Jim, didn't I teach you anything?
- Jim: Yes! You taught me that people will do anything... for a potato."


"I saw it! I saw it! It was like a white light in the sky."

"- Jim: Would you like a Hershey bar?
- Nina: Oh yes, please.
- Jim: So would I kid, have you got one?"


"- Jim: It almost looks as if they're waiting for something to happen...
- John Graham, Jim's father: Yes.
- Jim: They didn't look angry or anything...
- Maxton: It's not their anger; it's their patience."

Learned a new word today. "Atom bomb". It was like the God taking a photograph.

Highlights