"Poltergeist" quotes
(1982)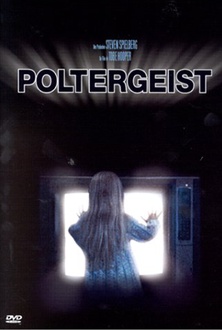 Title Poltergeist
Year 1982
Director Tobe Hooper
Genre Horror

Plot – Steve lives in a quiet residential area with his wife Diane and their children Carol Anne, Robbie and Dana. One evening Carol Anne is surprised talking to someone inside the TV and notifies the family that "They have arrived". Then Carol Anne disappears mysteriously, although her voice continues to be heard in the house. Steve then asks a parapsychologist for help. The specialist, nonetheless, is unable to explain what is happening. Strange phenomena continue to occur.
All actors – Craig T. Nelson, JoBeth Williams, Beatrice Straight, Dominique Dunne, Oliver Robins, Heather O'Rourke, Michael McManus, Virginia Kiser, Martin Casella, Richard Lawson, Zelda Rubinstein, James Karen, Lou Perryman, Clair E. Leucart, Dirk Blocker, Allan Graf, Joseph Walsh, Helen Baron, Noel Conlon, Robert Broyles, Sonny Landham, Jeffrey Bannister, William Vail, Craig Simmons, Phil Stone
show all
"Poltergeist" Quotes 19 quotes
"This house has many hearts."

"I feel like the proto-human coming out of the forest primeval and seeing the moon for the first time and throwing rocks at it."




"- Dr. Lesh: Poltergeists are usually associated with an individual. Hauntings seem to be connected with an area. A house usually.
- Marty: Poltergeist disturbances are of a fairly short duration. Perhaps a couple of months. Hauntings can go on for years."


"Some people believe that when people die, there's a wonderful Light, as bright as the sun. But it doesn't hurt to look into it. All the answers to all the questions that you ever want to know are inside that Light. And when you walk to it, you become a part of it forever. And then, some people die but they don't know that they've gone."


"- Ben Tuthill: Mosquito ever suck on you, son?
- Tuthills's Son: I don't know, Dad."


"- Steve Freeling: No. I'll do it. Let me go.
- Diane Freeling: You can't go. You're the only one strong enough to hold the rope."


- Steve Freeling: Tomorrow I'm going to call someone.
- Diane Freeling: Like who? I looked in the Yellow Pages. "Furniture Movers" we've got; "Strange Phenomenon", there's no listing.


"You are afraid of burglars or you are trying to attract every insect in Cuesta Verde?"

"- Tangina (Poltergeist): Cross over children. All are welcome. All welcome. Go into the Light.
- Steve Freeling: No! No, you said no!
- Tangina (Poltergeist): There is peace and serenity in the Light.
- Steve Freeling: You said don't go into the Light!"


"- Steve Freeling: Not much room for a pool is there?
- Mr. Teague: We own all the land. We have already made arrangements for relocating the cemetery.
- Steve Freeling: You're kidding. Come on. I mean, that's sacrilegious, isn't it?
- Mr. Teague: Don't worry about it. After all, it's not ancient tribal burial ground. It's just... people. Besides..."

(continue)

(continue reading)




"- Robbie Freeling: So some people get angry and throw things around - like in my bedroom?
- Dr. Lesh: Yes. Just like in school. Like some kids are nice to you, some kids are mean.
- Robbie Freeling: I got beat up once by three kids. They took my lunch money. Maybe they got hit by a truck and they're upstairs right now!"


"- Diane Freeling: Mmmmm... smell that mimosa.
- Steve Freeling: Well you better cut a bouquet and take it with you, because we're not staying."


"- Diane Freeling: We were wondering if you had experienced any... disturbances?
- Ben Tuthill: What kind of disturbances?
- Diane Freeling: You know... dishes or furniture, moving around by themselves."


"Maybe they didn't want to die. Maybe they weren't ready. Maybe they hadn't lived fully yet or they'd lived a long, long time and they still wanted more life. They resist going into that light, however hard the light wants them. They just... hang around. Watch TV, watch their friends grow up feeling unhappy and jealous and those feelings are bad...."

(continue)

(continue reading)




"You son of a bitch! You moved the cemetery, but you left the bodies, didn't you? You son of a bitch, you left the bodies and you only moved the headstones! You only moved the headstones! Why! Why!"

- Steve Freeling: You know Teague, he won't take "Go to Hell" for an answer.
- Diane Freeling: What are you going to do?
- Steve Freeling: I'm gonna give him directions.


You know we have a saying around here; "The grass grows greener on every side".