"Flower Drum Song" quotes
(1961)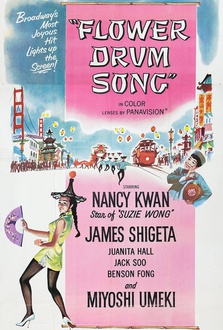 Title Flower Drum Song
Year 1961
Director Henry Koster
Genre Comedy, Musical, Romance

Plot – A beautiful Chinese girl arrives in San Francisco to meet the man who was assigned to her by her parents. The boy, though, is already in love with a dancer. The Chinese girl, who is staying in a hotel, meets a young guest and falls in love with him. In the end, everyone will marry the person they love.
All actors – Nancy Kwan, James Shigeta, Benson Fong, Jack Soo, Juanita Hall, Reiko Sato, Patrick Adiarte, Kam Tong, Victor Sen Yung, Soo Yong, Ching Wah Lee, James Hong, Miyoshi Umeki, , B.J. Baker, Henry Beau, Herman Belmonte, Paul Bradley, George Bruggeman, Eugene Chan, Mary Chan, Spencer Chan, David Chow, Tai Wai Chow, Jane Chung, John Dodson, Harold Fong, Jon Fong, H.W. Gim, Virginia Grey, Marilyn Horne, Shep Houghton, Nancy Hsueh, Hideo Inamura, Michael Jeffers, Finis Jhung, Keiko Kamitsuka, Paul King, Robert Kino, Frank Kumagai, Cherylene Lee, Esther Ying Lee, Guy Lee, Virginia Ann Lee, Willard Lee, Weaver Levy, Caryl Lincoln, Tiko Ling, Laurette Luez, Hans Moebus, Alice Nishimura, Ron Nyman, Jack Perrin, Murray Pollack, Beulah Quo, Frank Radcliffe, Ward Ramsey, Tony Regan, Mitchell Rhein, Herman Rudin, Jerry Rush, Jeffrey Sayre, James Shen, Robin Shimatsu, Gerald Shimaza, Arthur Song, Owen Song, Willie Soo Hoo, Paul Sorensen, Norman Stevans, Pat Sui, Teruko Suzuki, Joan Swift, Paul Togawa, David Toguri, Irene Tsu, Edwin Tuttle, Beal Wong, William Yip
show all
"Flower Drum Song" Quotes 20 quotes
"- Mei Li: Oh, my father. It is so wonderful. San Francisco.
- Doctor Li: Yes, but how do we know what kind of city it is?
- Mei Li: It is named after a saint, so it must be a very holy place."


"- Wang Chi-Yang: What do you know of marriage? What do you know of women?
- Wang Ta: Sir, what did you know of marriage and women when you married my mother?
- Wang Chi-Yang: Nothing. That is why I obeyed my father and married the woman he chose for me."


"- Wang Ta: Would you like to dance?
- Mei Li: I don't know how, but I will walk around with you while you dance."


"- Wang Chi-Yang: Where have you been till this hour?
- Wang Ta: Spending the night...
- Wang Chi-Yang: Stop! Not in front of your aunt.
- Wang Ta: I beg your forgiveness, Father. You were right. I should have listened. I was a fool.
- Wang Chi-Yang: Knowing you are a fool is the beginning of wisdom. Now I have my son back."


"- Madame Liang: I am happy to be both Chinese and American.
- Wang Chi-Yang: You are like the Chinese dish the Americans invented. What do they call it?
- Wang Ta: Chop Suey.
- Wang Chi-Yang: That is it. Everything is in it. All mixed up.
- Madame Liang: I like that."


"You have an unfortunate way of expressing yourself."

"What are we going to do about the other generation? How will we ever communicate without communication?"


"- Madame Liang: What did he look like?
- Wang Chi-Yang: Who?
- Madame Liang: The robber.
- Wang Chi-Yang: Dont ask me what he looked like! All white men look alike!"


"- Wang Chi-Yang: What language is he using? I have a feeling he has been disrespectful, but I am not sure.
- Madame Liang: No, no. That is American style slang."


"When that day come when you can think for yourself, I will let you know."

In my citizenship class I have learned "We, the people of the United States, are entitled to life, liberty, and the pursuit of happy time."


"- Doctor Li: You smell good. You wear incense to scare away evil spirits?
- Linda Low: Oh no, to attract them!"


For five years you have gone to that Citizenship School and all you have learned is: "This is not China!".