"Inglourious Basterds" quotes
(2009)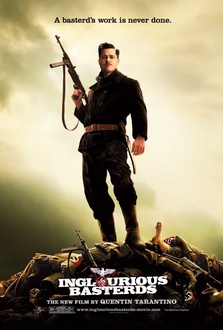 Title Inglourious Basterds
Year 2009
Directors Quentin Tarantino, Eli Roth
Genre Drama, War, Adventure

Plot – In Nazi-occupied France, Shosanna Dreyfus witnesses the murder of her entire family at the hands of Nazi Colonel Hans Landa. Shosanna barely escapes death and flees to Paris, where she creates a new identity for herself as the owner and operator of a cinema. Elsewhere in Europe, Lieutenant Aldo Raine puts together a group of Jewish soldiers known as "The Bastards". The soldiers are instructed by their superiors to act as mavericks, killing every German soldier they meet and taking their scalp. Raine's team works with German actress Bridget Von Hammersmark, an Allied spy, in a mission which aims to eliminate the leaders of the Third Reich. Their mission takes them close to the Parisian cinema where Shosanna is plotting her revenge. Inglorious Bastards, a project Quentin Tarantino thought about for years, was inspired by one of the director's favourite movies: "Inglorious Bastards" by Enzo G. Castellari.
All actors – Brad Pitt, Mélanie Laurent, Christoph Waltz, Eli Roth, Michael Fassbender, Diane Kruger, Daniel Brühl, Til Schweiger, Gedeon Burkhard, Jacky Ido, B.J. Novak, Omar Doom, August Diehl, Denis Ménochet, Sylvester Groth, Martin Wuttke, Mike Myers, Julie Dreyfus, Richard Sammel, Alexander Fehling, Rod Taylor, Sönke Möhring, Samm Levine, Paul Rust, Michael Bacall, Arndt Schwering-Sohnrey, Petra Hartung, Volker Michalowski, Ken Duken, Christian Berkel, Anne-Sophie Franck, Léa Seydoux, Tina Rodriguez, Lena Friedrich, Ludger Pistor, Jana Pallaske, Wolfgang Lindner, Michael Kranz, Rainer Bock, André Penvern, Sebastian Hülk, Buddy Joe Hooker, Carlos Fidel, Christian Brückner, Hilmar Eichhorn, Patrick Elias, Eva Löbau, Salvadore Brandt, Jasper Linnewedel, Wilfried Hochholdinger, Olivier Girard, Michael Scheel, Leo Plank, Andreas Tietz, Bo Svenson, Enzo G. Castellari, Michael August, Noemi Besedes, Alex Boden, Hélène Cardona, Bela B. Felsenheimer, Guido Föhrweißer, Jake Garber, Samuel L. Jackson, Harvey Keitel, Andrew Napier, Gregory Nicotero, Niko Novick, Aleksandrs Petukhovs, Brendan Potter, Sabrina Rattey, Quentin Tarantino, Vitus Wieser
show all
"Inglourious Basterds" Quotes 12 quotes
"- Lt. Aldo Raine: Are you going to take off your uniform?
- Pvt. Butz: Not only shall I remove it, I intend to burn it.
- Lt. Aldo Raine: Yeah, that's what we thought. We don't like that. You see, we like our Nazis in uniform. That way you can spot 'em just like that. But you take off that uniform, ain't no one ever gonna know you were a Nazi."

"- Sgt. Donny Donowitz: Whose idea was it for the death trap rendezvous?
- Lt. Archie Hicox: She chose the spot.
- Sgt. Donny Donowitz: Well, isn't that just dandy!
- Lt. Archie Hicox: Look, she's not a military strategist. She's just an actress.
- Lt. Aldo Raine: Well, you don't got to be Stonewall Jackson to know you don't want to fight in a..."

(continue)

(continue reading)




"It's only the offspring of slaves that allows America to be competitive athletically. American Olympic gold can be measured in Negro sweat."


"What a tremendously hostile world that a rat must endure. Yet not only does he survive, he thrives. Because our little foe has an instinct for survival and preservation second to none... And that, Monsieur, is what a Jew shares with a rat."


"Each and every man under my command owes me one hundred Nazi scalps. And I want my scalps. And all y'all will git me one hundred Nazi scalps, taken from the heads of one hundred dead Nazis. Or you will die tryin'."


- Lt. Aldo Raine: So you're "the Jew Hunter".
- Col. Hans Landa: A detective. A damn good dectective. Finding people is my specialty so naturally I work for the Nazis finding people, and yes some of them were Jews. But "Jew Hunter?".