"Django Unchained" quotes
(2012)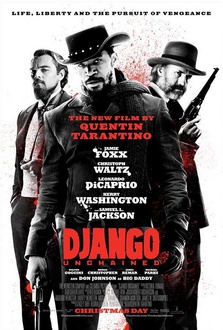 Title Django Unchained
Year 2012
Director Quentin Tarantino
Genre Drama, Western

Plot – In the south of the United States, two years before the Civil War, Django manages to regain his freedom thanks to King Schultz, a former German dentist turned into a bounty hunter who has become his mentor and guide to find the dangerous Brittle brothers. After learning how to juggle between duels and guns, Django becomes a good bounty hunter too, but he still has only one goal to achieve at any cost: tracking down his wife and free her from Calvin Candie's slavery, the evil owner of some Mississippi's plantations where slaves are trained to fight against each other for his fun.
All actors – Jamie Foxx, Christoph Waltz, Leonardo DiCaprio, Kerry Washington, Samuel L. Jackson, Walton Goggins, Dennis Christopher, James Remar, David Steen, Dana Gourrier, Nichole Galicia, Laura Cayouette, Ato Essandoh, Sammi Rotibi, Clay Donahue Fontenot, Escalante Lundy, Miriam F. Glover, Don Johnson, Franco Nero, James Russo, Tom Wopat, Don Stroud, Russ Tamblyn, Amber Tamblyn, Bruce Dern, M.C. Gainey, Cooper Huckabee, Doc Duhame, Jonah Hill, Lee Horsley, Zoë Bell, Michael Bowen, Robert Carradine, Jake Garber, Ted Neeley, James Parks, Tom Savini, Michael Parks, John Jarratt, Quentin Tarantino, Amari Cheatom, Keith Jefferson, Marcus Henderson, Lil Chuuch, Kinetic, Louise Stratten, Kim Robillard, Shana Stein, Shannon Hazlett, Jack Lucarelli, Victoria Thomas, Grace Collins, Sharon Pierre-Louis, Christopher Berry, Kim Collins, Dane Rhodes, J.D. Evermore, Rex Linn, Michael Bacall, Ronan Hice, Ned Bellamy, Dave Coennen, Danièle Watts, Jon Eyez, Omar J. Dorsey, Evan Parke, Craig Stark, Brian Brown, Ritchie Montgomery, Nicholas Dashnaw, Jarrod Bunch, Edrick Browne, Kerry Sims, Jamal Duff, Todd Allen, Lewis Smith, Keniaryn Mitchell, Jakel Marshall, Carl Singleton, Ashley Toman, John McConnell, , Mark Amos, Monica Rene'e Anderson, Deborah Ayorinde, Carl Bailey, Seth Bailey, David G. Baker, Leianna Seals Bell, John R. Bennett II, Marsha Stephanie Blake, Kesha Bullard, Valencia Christina, Edward J. Clare, Takara Clark, Ross P. Cook, Jordon Michael Corbin, Mike DeMille, Santana Draper, Kimberley Drummond, Khadijah Forte, Gregory Allen Gabroy, Gary Grubbs, Justin Hall, Gene Kevin Hames Jr., Jacquelyn Twodat Jackson, Tenaj L. Jackson, Kasey James, Tai Kendrick, Richie J. Ladner, Catherine Lambert, Skipper Landry, Elton LeBlanc, Sandra Linz, Cindy Mah, Chuck Murphy, Ceociea Naomi, Johnny Otto, Kel Owens, Belinda Owino, Matthew Parrott, Erin Pickett, Timothy Pickles, Aleeah Rogers, Kay Smith, Samantha Smith, Fatimah Taliah, Tristan Tierce, LaTeace Towns-Cuellar, Mark Ulano, Misty Upham, Glen Warner, Rashia Whitlock, Tadasay Young
show all
"Django Unchained" Quotes 21 quotes
"Everybody stop antagonizing my guest."

"In the skull of the African here, the area associated with submissiveness is larger than any human or other sub-human species on planet Earth. If you examine this piece of skull here, you'll notice three distinct dimples. Here, here and here. Now if I was holding a skull of a... of an Isaac Newton or Galileo, these three dimples would be in the..."

(continue)

(continue reading)

- Dr. King Schultz: Alexander Dumas. He wrote "The Three Musketeers." I figured you must be an admirer. You named your slave after his novel's lead character. If Alexander Dumas had been there today, I wonder what he would have made of it?
- Calvin Candie: You doubt he'd approve?
- Dr. King Schultz: Yes. His approval would be a dubious...

(continue)

(continue reading)




"Django is a free man. He cannot be treated like a slave. He... within the boundaries of good taste, he must be treated as an extension of myself."


"- Dr. King Schultz: I can't express the joy I felt conversing in my mother tongue. And Hildi is a charming conversation companion.
- Calvin Candie: Well, be careful now, Dr. Schultz. You might have caught yourself a little dose of nigger love. Nigger love's a powerful emotion, boy. It's like a pool of black tar. Once it catches your ass, your..."

(continue)

(continue reading)




"Seventy-six years, Stephen. How many niggers you think you seen come and go? Seven thousand? Eight thousand? Nine thousand? Nine thousand nine hundred and ninety nine? Every single word that came out of Calvin Candie's mouth was nothing but horseshit, but he was right about one thing: I am that one nigger in ten thousand."

"- Django: You kill people? And they give you a reward?
- Dr. King Schultz: Certain people, yeah...
- Django: Bad people?
- Dr. King Schultz: Ah! Badder they are, the bigger the reward."


"- Lara Lee Candie-Fitzwilly: I don't know, doctor. You can lay on all the German sweet talk you want, but it looks like this pony's got big eyes for Django.
- Dr. King Schultz: Well, naturally, it is the soaring eagle that attracts her attention, not the plucked chicken."

"The stateplaces a bounty on a man's head. I track that man, I find that man, I kill that man. After I've killed him, I transport that man's corpse back to the authorities. Sometimes that's easier said than done. I show that corpse to the authorities, proving yes, indeed, I truly have killed him, at which point the authorities pay me the bounty...."

(continue)

(continue reading)




"- Dr. King Schultz: How do you like the bounty hunting business?
- Django: Kill white people and get paid for it? What's not to like?"


"Gentleman, you had my curiosity, now you have my attention."

"My good man, did you simply get carried away with your dramatic gesture, or are you pointing your weapon at me with lethal intention?"

"On one hand, I despise slavery. On the other hand, I need your help. If you're not in a position to refuse, all the better. So, for the time being, I'm gonna make this slavery malarkey work to my benefit. Still, having said that, I feel guilty..."


"- Stephen: I count six shots, nigger.
- Django: [pulls out a second revolver] I count two guns, nigger."


"- Calvin Candie: Your boss looks a little green around the gills.
- Django: He just ain't used to seein' a man ripped apart by dogs is all.
- Calvin Candie: But you are used to it?
- Django: I'm just a little more used to Americans than he is."

"- Django: Hey, little troublemaker.
- Broomhilda: Hey, big troublemaker."


Mister Candie, normally I would say "Auf wiedersehen", but since what "auf wiedersehen" actually means is "'till I see you again", and since I never wish to see you again, to you, sir, I say goodbye!