"Dead Poets Society" quotes
(1989)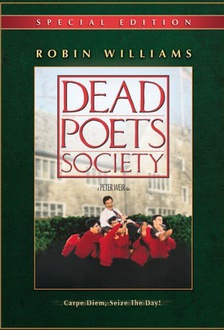 Title Dead Poets Society
Year 1989
Director Peter Weir
Genre Drama

Plot – In the fall of 1959, at Welton Academy, an exclusive college in New England, arrives a new literature teacher, John Keating. He immediately draws the attention because of his peculiar pedagogical methods, unusual for the time and the college. He shares the passion for poetry with his students using showy gestures and, above all, he believes in their intelligence. The situations gets worse when Neil argues with his authoritarian father and austere family because he wants to become an actor.
All actors – Robin Williams, Robert Sean Leonard, Ethan Hawke, Josh Charles, Gale Hansen, Dylan Kussman, Allelon Ruggiero, James Waterston, Norman Lloyd, Kurtwood Smith, Carla Belver, Leon Pownall, George Martin, Joe Aufiery, Matt Carey, Kevin Cooney, Jane Moore, Lara Flynn Boyle, Colin Irving, Alexandra Powers, Melora Walters, Welker White, Steve Mathios, Alan Pottinger, Pamela Burrell, Allison Hedges, Christine D'Ercole, John Cunningham, Debra Mooney, John Martin Bradley, Charles Lord, Kurt Leitner, Richard Stites, James J. Christy, Catherine Soles, Hoover Sutton, Simon Mein, Ashton W. Richards, Robert Gleason, Bill Rowe, Robert J. Zigler III, Keith Snyder, Nicholas K. Gilhool, Jonas Stiklorius, Craig Johnson, Chris Hull, Jason Woody, Sam Stegeman, Andrew Hill, Newton Gilchrist, Joel Fogel, Barry Godin, Jamie Kennedy, Nancy Kirk, James R. Stoddard
show all
"Dead Poets Society" Quotes 17 quotes
"Nothing is difficult to those who have the will."




"For the first time in my whole life, I know what I wanna do! And for the first time, I'm gonna do it! Whether my father wants me to or not! Carpe diem!"




"It's not the Bible, you're not gonna go to Hell for this."

"There's a time for daring and there's a time for caution, and a wise man understands which is called for."


"We don't read and write poetry because it's cute. We read and write poetry because we are members of the human race. And the human race is filled with passion. And medicine, law, business, engineering, these are noble pursuits and necessary to sustain life. But poetry, beauty, romance, love, these are what we stay alive for."


"No matter what anybody tells you, words and ideas can change the world."


- Hopkins: [reading his poem] "The cat sat on the mat".
- John Keating: Congratulations, Mr. Hopkins. You have the first poem to ever have a negative score on the Pritchard scale.


"There is a time for daring and a time for caution, and a wise man knows which is called for."


"- John Keating: Language was developed for one endeavor, and that is... Mr. Anderson? Come on, are you a man or an amoeba?
[Mr. Anderson stays silent]
- John Keating: Mr. Perry?
- Neil Perry: To communicate.
- John Keating: No! To woo women!"


"You must strive to find your own voice. Because the longer you wait to begin, the less likely you are to find it at all."




"All the good ones go for jerks. You know that."

"Oh Captain, my Captain". Who knows where that comes from? Anybody? Not a clue? It's from a poem by Walt Whitman about Mr. Abraham Lincoln. Now in this class you can either call me Mr. Keating, or if you're slightly more daring, "Oh Captain, my Captain".