"Dress to Kill" quotes
(1999)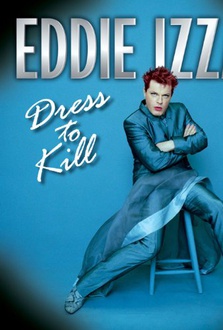 Title Dress to Kill
Original title Eddie Izzard: Dress to Kill
Year 1999
Director Lawrence Jordan
Genre Comedy, Documentary

All actors – Eddie Izzard
show all
"Dress to Kill" Quotes 19 quotes
You say, "Do you want a cup of coffee?" and she says, "Yeah, okay". Then sex is on, yes? Doesn't always work, though. If the President of Burundi says do you want a cup of coffee, you're not supposed to go.


"I like my coffee hot and strong, like I like my women, hot and strong... with a spoon in them."




"Britain should be in the driving seat of Europe. In the driver's seat, or in the passenger seat. That's good, cuz then you can take a sleep."


Martin Luther was a German fellow who pinned a note on a church door that said, "Hang on a minute!". Actually, he was German so, "Ein minuten bitte! Ich habe einen klienen problemo avec diese religioni. He was from everywhere".




"I am a professional transvestite, so I can run about in heels and not fall over."


"If a woman falls over wearing heels, that's embarrassing, but if a bloke falls over wearing heels, then you have to kill yourself. It's the end of your life. Its quite difficult."




"It's the cutting edge of politics in a very extraordinarily boring way!"

When you're more mature, you do start telling the truth, in odd situations. "I'm sorry, I've broken a glass here. Is that expensive? I'll pay for it. I'm sorry". And you do that so that people in the room might go, "What a strong personality that person has. I like to have sex with people with strong personalities".


"We stole countries! That's how you build an empire. We stole countries with the cunning use of flags!"




"There's two positions in snowboarding. One is looking cool and the other is dead!"




"There's not much makeup in the army, is there? They only have that nighttime look, and that's a bit slapdash, isn't it?"


"Pol Pot killed one point seven million Cambodians, died under house arrest, well done there. Stalin killed many millions, died in his bed, aged seventy-two, well done indeed. And the reason we let them get away with it is they killed their own people. And we're sort of fine with that."




"Hitler ended up in a ditch covered in petrol on fire... so, that's fun. I think that's funny. Because he was a mass-murdering fuck-head!"


The National RifleAssociation says that, "Guns don't kill people, uh, people do." But I think, I think the gun helps. You know? I think it helps. I just think just standing there going, "Bang!" That's not going to kill too many people, is it? You'd have to be really dodgy on the heart to have that.


"I didn't tell anyone at school that I was a transvestite, because I was afraid they'd kill me with sticks."




"When you're a transvestite, you're actually a male tomboy."




"Cable cars are fun - everyone gets on board and becomes a rhesus monkey."




"Most transvestites fancy girls."


If you're choking in a restaurant you can just say the magic words, "Heimlich maneuver," and all will be well. Trouble is, it's difficult to say "Heimlich maneuver" when you're choking to death.