"Stay Tuned" quotes
(1992)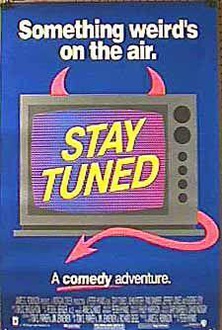 Title Stay Tuned
Year 1992
Director Peter Hyams
Genre Comedy, Adventure, Fantasy

Plot – Spike is on a mission on behalf of the devil. His task is to recover souls through a cable TV. His first victim is Roy Knable, a representative of bathroom fixture and a video depending who together with his wife Helen gets part to soap operas, westerns and catch meetings fighting to save his life.
All actors – John Ritter, Pam Dawber, Jeffrey Jones, David Tom, Heather McComb, Bob Dishy, Joyce Gordon, Eugene Levy, Erik King, Don Calfa, John Destry, Susan Blommaert
show all
"Stay Tuned" Quotes 14 quotes
"My doctor was right. Doughnuts will be the death of me."

"Where are you going to go, your cartoon mother's house?"

"- Roy Knable: For a mouse, you, um, look pretty sexy.
- Helen Knable: Too bad you didn't like the way I looked when I was human.
- Roy Knable: I always did.
- Helen Knable: News to me."

"You wanted to live in a TV fantasy? Well, you got your wish."

"O.K. everything goes, maim, murder each other, I don't care, but keep it clean. Okay, go to your corners, and when the bell rings, kill or be killed."

"Nice disguise. Interesting concept. Diagonal boobs. Could you fix that thing?"

"- Helen Knable: Let me get this straight. We've been sucked into some kind of TV world?
- Roy Knable: Are you saying that that salesman was...
- Crowley: Mr. Spike, Mephistopheles of the cathode ray, big brother to the ungrateful dead."


"Roy Knable, private dick. Well, better than being a public dick."

"You'll get us out? Your leadership skills couldn't get us out of a T-shirt!"

- Executioner: Any last requests?
- Roy Knable: Yeah, how about the long version of "Stairway to Heaven"?
- Executioner: I'm afraid that is not where you are going.