"Ocean's Eleven" quotes
(2001)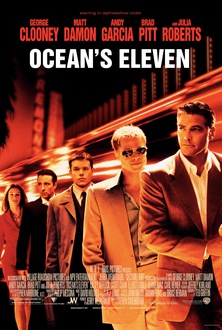 Title Ocean's Eleven
Year 2001
Director Steven Soderbergh
Genre Crime, Thriller

Plot – After spending many years in jail in New Jersey, Daniel "Danny" Ocean breaks free and organizes an apparently impossible plan: he wants to rob the Bellagio's vault where the money of three Las Vegas' casinos is stored. Along with $160 million, Danny wants to "steal" his ex-wife Tess from the owner of the casinos Terry. Danny needs the help of several experts to succeed in the mission: Rusty has skill in playing cards; Linus is a professional pickpocket; Ruben knows the security sistems of the vault perfecly; Roscoe is an explosive expert; the Malloy brothers are technology champions, while Yen is a contortionist and an acrobat.
All actors – George Clooney, Cecelia Ann Birt, Paul L. Nolan, Carol Florence, Lori Galinski, Bernie Mac, Brad Pitt, Mark Gantt, Tim Perez, Elliott Gould, Frank Patton, Casey Affleck, Scott Caan, Eddie Jemison, Jorge R. Hernandez, Tim Snay, Miguel Pérez, Shaobo Qin, Carl Reiner, Lennox Lewis, Wladimir Klitschko, Matt Damon, Barry Brandt, William Patrick Johnson, Robert Peters, David Jensen, Kelly Adkins, Gregory Stenson, Joe La Due, Andy Garcia, John C. Fiore, Tommy Kordick, Michael DeLano, Charles La Russa, Anthony Allison, Ronn Soeda, Julia Roberts, Robin Sachs, J.P. Manoux, Jerry Weintraub, Frankie J. Allison, James Curatola, Henry Silva, Eydie Gormé, Angie Dickinson, Steve Lawrence, Wayne Newton, Siegfried Fischbacher, Roy Horn, Jim Lampley, Larry Merchant, Richard Reed, David Sontag, Larry Sontag, Bill Allison, Rusty Meyers, Joe Coyle, Scott L. Schwartz, Richard Steele, John Robotham, Vincent M. Ward, Scott Beringer, Jim Alfonso, , Bonnie Joy Ashley, Jonathan Burleigh Barnthouse, Bonnie Bom, Lloyd Booker, Christie Campagna, Derek Sean Carlton, Adam Carrera, Don Cheadle, Holly Marie Combs, Presley V. Conkle, Christopher Crotty, Jeremy Dunn, Jacob 'Stitch' Duran, LaTisha Fletcher, Patrick Fullerton, Jaime Gallagher, Joss Gomez, Topher Grace, Laurence R. Griffin, Charles Halford, Joshua Jackson, Rick Kain, Matthew Kish, Jesse Kozel, David Leitch, Simone Lotter, Christopher Mann, Michael Mantella, Brad Martin, Mycole Metcalf, George D. Miklos, Anthony Parrulli, Bob Pepper, Gustavo Perez, Gary Pike, 'Diamond' Tim Pleshaw, Troy Robinson, David C. Roehm Sr., Thomas Rosales Jr., Laurent Schwaar, Steven Soderbergh, Emanuel Steward, Reggi Danielle Sweat, Yann Toderi, Barry Watson, Shane West, Bernie Yuman
show all
"Ocean's Eleven" Quotes 14 quotes
"- Rusty Ryan: You scared?
- Linus Caldwell: You suicidal?
- Rusty Ryan: Only in the morning."


"I know more about casino security than any man alive, I invented it, and it cannot be beaten. They got cameras, they got locks, they got watchers, they got timers, they got vaults, they got enough armed personnel to occupy Paris!"


"I'm not sure what four nines does, but the ace, I think, is pretty high."

"- Bartender: How's the game going?
- Rusty Ryan: Longest hour of my life.
- Bartender: [not hearing him] What?
- Rusty Ryan: I'm running away with your wife.
- Bartender: Great!"


"Shane, you've got three pairs. You can't have six cards! You can't have six cards in a five-card game!"

They might as well call it "whitejack"!