"Traffic" quotes
(2000)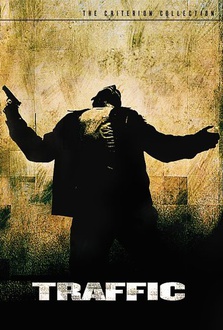 Title Traffic
Year 2000
Director Steven Soderbergh
Genre Drama, Crime, Thriller

Plot – Javier, a Mexican policeman, works with his colleague Manolo at the border between the US and Mexico. They are Salazar's employees, the leading exponent of the fight against Mexican organized crime. Although Javier struggles to resist to the numerous temptations, he gets involved in un unbearable situation. The Supreme Court of Ohio elects a new head of the DEA: his name is Robert, who has to face his daughter's drug addiction. San Diego, a drug dealer, agrees to testify against the mean Obregon's cartel. He will face a lot of troubles.
All actors – Benicio Del Toro, Jacob Vargas, Andrew Chavez, Michael Saucedo, Tomas Milian, Jose Yenque, Emilio Rivera, Michael O'Neill, Michael Douglas, Russell G. Jones, Lorene Hetherington, Eric Collins, Beau Holden, Peter Stader, James Lew, Jeremy Fitzgerald, Russell Solberg, Luis Guzmán, Don Cheadle, Don Snell, Enrique Murciano, Gary Carlos Cervantes, Leticia Bombardier, Miguel Ferrer, Carl Ciarfalio, Steven Lambert, Gilbert Rosales, Rick Avery, Mario Roberts, Eileen Weisinger, Keii Johnston, Mike Watson, Kurt D. Lott, Lincoln Simonds, Steve Tomaski, Buck McDancer, John Callery, Ousaun Elam, Brian Avery, Corey Spears, Majandra Delfino, Topher Grace, Erika Christensen, Alec Roberts, Catherine Zeta-Jones, Rena Sofer, Stacey Travis, Jennifer Barker, Dean Faulkner, Albert Finney, D.W. Moffett, James Brolin, Daniella Kuhn, Brandon Keener, Bill Weld, George Blumenthal, Stephen Dunham, Don Nickles, Margaret Travolta, Harry Reid, Jeff Podolsky, Jewelle Bickford, Barbara Boxer, Orrin G. Hatch, Charles Grassley, Dave Hager, Tucker Smallwood, Steven Bauer, Marisol Padilla Sánchez, Amy Irving, Dennis Quaid, Clifton Collins Jr., Víctor Quintero, Toby Holguin, Ramiro González, Viola Davis, James Pickens Jr., Peter Riegert, Elaine Kagan, John Slattery, Jimmy Ortega, Greg Boniface, Thomas Rosales Jr., Rudy M. Camacho, Vonte Sweet, Ed Breving, Yul Vazquez, Jack Conley, Eddie Velez, Craig N. Chretien, John Brown, Mike Siegel, Joel Torres, Stephen J. Rose, Kimber Fritz, Harsh Nayyar, Mary Pat Gleason, Vincent M. Ward, Benjamin Bratt, Jsu Garcia, Gregory Estevane, Alex Procopio, Rita Gomez, Kaizaad Kotwal, David Jensen, Jay Krymis, Mike Malone, René Pereyra, Kymberly Newberry, Carroll Schumacher, Ben Scott, Michael Showers, Fred Anderson, David Bickford, Robert Randolph Caton, Cecile Cinco, Adam Clark, Chic Daniel, Alan Easley, Choel Evans, Rod Fielder, Tony Guma, Valerie Lynn Hanna, Salma Hayek, Elizabeth Jarosz, Dominic Koulianos, Zachary Lindsey, Ambrit Millhouse, David Pittinger, Darlynne Reyes Menkin, Laurent Schwaar, Joey Sotello, William Christopher Stephens, Lynn Struiksma, Clyde Tull, Fairly Tull, Jim Cody Williams, Anthony Hawkins Woods, William 'Shorty' Young
show all
"Traffic" Quotes 21 quotes
"- Eduardo Ruiz: You guys remind me of Japanese soldiers on deserted islands who still think world war two is still going on. The fact is that your government surrendered this war a long fucking time ago.
- Montel Gordon: You know, I don't think this attitude is gonna help him in front of the judge. Eduardo, there is just one thing wrong with..."

(continue)

(continue reading)




"If there is a war on drugs, then many of our family members are the enemy. And I don't know how you wage war on your own family."


"- Ray Castro: Why are hurricanes named after women?
- Montel Gordon: I don't know.
- Ray Castro: Because when they arrive, they're wet and wild, and when they leave they take your house and your car."


"- Caroline Wakefield: What's Washington like?
- Robert Wakefield: What's Washington like? Well its like Calcutta, surrounded by beggars. The only difference is the beggars in Washington wear fifteen hundred dollar suits and they don't say please or thank you."


"- Seth Abrahams: I want to have sex and then do a hit right as we're both cumming.
- Caroline Wakefield: Ok."


"- Montel Gordon: I lost my virginity with a sophomore in high school.
- Ray Castro: That's cool.
- Montel Gordon: Yeah, sweet.
- Ray Castro: Did he treat you good?"


"- Arnie Metzger: Stay out of things.
- Helena Ayala: That is going to be rather difficult when all the evidence is against us."


"I have dram about this, I have actual dreams about this, about busting the top people, the rich people, white people!"


"- Robert Wakefield: What are your policies towards treatment of addiction?
- General Arturo Salazar: Treatment of addiction? Addicts treat themselves. They overdose and then there's one less to worry about."


"- Agent Hughes: First let's talk about what precautions you're taking to protect yourself.
- Javier Rodriguez: You worry about getting me what I want, I'll worry about myself."


"Well, you know, in Mexico, law enforcement is an entrepreneurial activity. Not so much in the states, anyway, we, uh... We hire drivers with nothing and throw a lot of product at the problem. Some gets stopped, enough gets through. It's not difficult. Look, boys, this has worked for years, okay. It's going to continue to work for years."


"On the good days, I feel like I get it, like it all makes sense. I can stay in the moment, I don't have to control everything in the future, and I believe everything is gonna work out fine. On the bad days I just want to grab the phone and start dialing numbers. I want to pull my hair and run through the streets screaming."


"They're saying something. They sound like they're conspiring to conspire. I can feel the lies vibrating from their home."

"- Francisco Flores: I want to use a bomb.
- Helena Ayala: Are you kidding? Can't you just shoot him or something?
- Francisco Flores: I don't really like guns. You shoot someone in the head three times and some pinche doctor will keep them alive."


They say in Latin, "In vino veritas". Wine tells the truth. Use this to write down the addresses of those bastards who killed my captains. And not where they were last week but where they are now, where they are this minute, and better yet, where they are going to be tomorrow. You know where they are going to be tomorrow, right?