"Pump Up the Volume" quotes
(1990)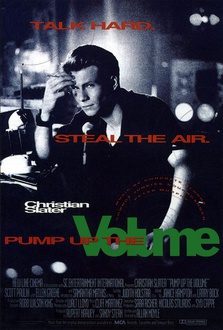 Title Pump Up the Volume
Year 1990
Director Allan Moyle
Genre Drama, Comedy, Music

Plot – Mark, a.k.a. "Hard Harry", is an Arizona high school student who every night becomes the speaker of a radio station that he has set up in his house. Shy by day, exuberant by night, Mark becomes the spokesman of his generation and fights injustice, hypocrisy and malice, talks about important issues such as homosexuality and tries, in vain, to prevent the suicide of a teenager.
All actors – Christian Slater, Annie Ross, Andy Romano, Scott Paulin, Mimi Kennedy, Anthony Lucero, Billy Morrissette, Robert Schenkkan, Cheryl Pollak, Ellen Greene, Samantha Mathis, Keith Stuart Thayer
show all
"Pump Up the Volume" Quotes 18 quotes
"Quitting is not going to make you stronger, living will."




"Eat your cereal with a fork and do your homework in the dark."


"They say I'm disturbed. Well, of course I'm disturbed. I mean, we're all disturbed. And if we're not, why not?"




"Remember my dear, I can smell a lie like a fart in a car."




"Feeling screwed up at a screwed up time in a screwed up place does not necessarily make you screwed up."




"Now I'm depressed. Now I feel like killing myself, but luckily I'm too depressed to bother."


"Everything decent's been done. All the great themes have been used up. Turned into theme parks."

"- Murdock: Excuse me. I just found the graffiti on the roof of the cafeteria, they're taking it down now.
- Loretta Creswood: What's it say?
- Murdock: Creswood's a maggot pusswad."


"I mean, if I knew any thing about love, I would be out there making it, instead of sitting in here talking to you guys."


"I have no friends, no money, no car, no license. And even if I did have a license all I can do is drive out to some stupid mall."

"- Mark Hunter: I've got something to show you.
- Nora Diniro: Is it bigger than a baby's arm?"


"Being young is sometimes less fun than being dead."




"You hear about some kid who did something stupid, something desperate; what possessed him? How could he do such a terrible thing? Well, it's really quite simple, actually.Consider the life of a teenager. You have parents, teachers telling you what to do, you have movies, magazines and TV telling you what to do, but you know what you have to do...."

(continue)

(continue reading)




"Rise up in the cafeteria and stab them with your plastic forks."




And then one day I woke up, and I realized I was never going to be normal, so I said, "Fuck it".