"Now, Voyager" quotes
(1942)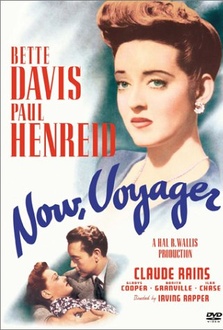 Title Now, Voyager
Year 1942
Director Irving Rapper
Genre Drama, Romance

Plot – Charlotte is a sick girl due to her mother's neuroses and a psychiatrist diagnoses her a strong sense of inferiority and cures her self-esteem. After three months, the girl leaves for a voyage and meets a man. He's married but now he's far from his wife and children. Both feel a deep feeling but decide to be honest and at the end of the trip they separate.
All actors – Bette Davis, Paul Henreid, Claude Rains, Gladys Cooper, Bonita Granville, John Loder, Ilka Chase, Lee Patrick, Franklin Pangborn, Katharine Alexander, James Rennie, Mary Wickes, Tod Andrews, Brooks Benedict, David Clyde, Yola d'Avril, Frank Dae, Donald Douglas, Charles Drake, Claire Du Brey, Elspeth Dudgeon, Bill Edwards, Mary Field, Bess Flowers, Reed Hadley, Sheila Hayward, Bill Kennedy, George Lessey, Lester Matthews, Corbet Morris, Tempe Pigott, Hilda Plowright, Frank Puglia, Constance Purdy, Georges Renavent, Dorothy Vaughan, Janis Wilson, Isabel Withers, Ian Wolfe, Charlotte Wynters
show all
"Now, Voyager" Quotes 19 quotes
"Don't ask for the moon. We have the stars."

"Dr. Jaquith says that tyranny is sometimes expression of the maternal instinct. If that's a mother's love, I want no part of it."




"I didn't want to be born. You didn't want me to be born. It's been a calamity on both sides."

"You're behaving like a romantic girl of eighteen."

"I want to believe that there's a chance for such happiness to be carried on somehow somewhere."

"Having fun together, getting a kick out of simple little things, out of beauty like this. Sharing confidences we wouldn't share with anybody else in all the world. Won't you be honest and tell me if you are happy too? Since the night on the boat when you told me about your illness, I can't get you out of my mind - or out of my heart either."

"If I were free, there would be only one thing I'd want to do - prove you're not immune to happiness."

"- Dr. Jaquith: If you had deliberately and maliciously planned to destroy your daughter's life, you couldn't have done it more completely.
- Mrs. Henry Vale: How? By having exercised a mother's rights?
- Dr. Jaquith: A child has rights, a person has rights, to discover her own mistakes, to make her own way, to grow and blossom in her own..."

(continue)

(continue reading)




"I'm my mother's well-loved daughter. I'm her companion. I am my mother's servant."

"I've been living my own life, making my own decisions for a long while now. It's impossible to go back to being treated like a child again. I don't think I'll do anything of importance that will displease you, but Mother, from now on, you must give me complete freedom."

"Some women just aren't the marrying kind."




"- Jerry Durrance: Are you afraid of getting burnt if you get too close to happiness?
- Charlotte Vale: No. I'm immune to happiness and therefore to burns."


- Mrs. Henry Vale: The very word "psychiatry", doesn't it fill you with shame, my daughter, a member of our family?
- Dr. Jaquith: There's nothing shameful or frightening about it. It's simple, what I do. People come to a fork in the road. They don't know which way to go. I put up a signpost: "Not that way. This way".