"Risky Business" quotes
(1983)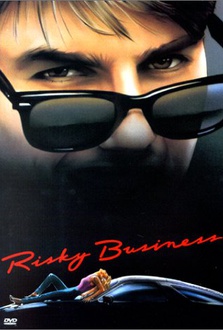 Title Risky Business
Year 1983
Director Paul Brickman
Genre Drama, Comedy

Plot – Taking advantage of his parents' trip, Joe, a rampant senior high school student, turns his house into a brothel, helped by the beautiful Lana, who introduces him to the "business". This of course does not go down well with Lana's protector, who declares war on the two, stealing all the furniture from Joe's house. The boy will be able to get back on top of the situation just a moment before his parents come back.
All actors – Tom Cruise, Rebecca De Mornay, Joe Pantoliano, Richard Masur, Bronson Pinchot, Curtis Armstrong, Nicholas Pryor, Janet Carroll, Shera Danese, Raphael Sbarge, Bruce A. Young, Kevin Anderson, Sarah Partridge, Nathan Davis, Scott Harlan, Sheila Keenan, Lucy Harrington, Jerry Tullos, Jerome Landfield, Ron Dean, Bruno Alexander, Robert Kurcz, Jonathan Chapin, Jimmy Baron, Harry Teinowitz, Francine Locke, Ann Cole, Candace Collins, Elizabeth Curran, Jill DeVries, Debra Dulman, Joyce Hazard, Kerry Hill, Megan Mullally, Lora Staley, Vivian Victor, Fern Persons, Cynthia Baker, Wayne Kneeland, Jade Gold, Dana Balkin, Karen Grossman, Brett Baer, Vinny Argiro, Eric Minsk, Mike Genovese, Steven Charous, Jason Gedrick, Anne Lockhart, Robert Minkoff
show all
"Risky Business" Quotes 17 quotes
- Miles: Sometimes you gotta say "What the fuck", make your move. Joel, every now and then, saying "What the fuck" brings freedom. Freedom brings opportunity, opportunity makes your future. So, your parents are going out of town. You got the place all to yourself.
- Joel Goodson: Yeah.
- Miles: What the fuck.


"When I was a little girl, my daddy used to spank my bare bottom. Now he's gone. Will you take his place?". Call Misty!

"- Lana: I'll be needing 300 bucks, Joel.
- Joel Goodson: You're kidding.
- Lana: No, I don't believe that I am.
- Joel Goodson: Well, uh, it's just that I don't have that much here in the house.
- Lana: How much do you have?
- Joel Goodson: I have 50 dollars.
- Lana: 50 dollars? What are we going to do about this, Joel?"


"I'm really trying to be friends with you. But I'd appreciate it if you'd stop laying these little judgments on me, while you're leaning on your daddy's $40,000 car."

"- Joel Goodson: Some of the girls are wearing my mother's clothing.
- Lana: What's wrong with that?
- Joel Goodson: I just don't want to spend the rest of my life in analysis."


"- Joel Goodson: You didn't tell anyone, did ya?
- Miles: No... Glen knows.
- Joel Goodson: What about Barry?
- Miles: He knows too.
- Joel Goodson: Okay. Just don't tell anyone."


"What if I said I'd be your girlfriend the next couple of days? No charge."

"In times of economic uncertainty, never ever fuck with another man's livelihood. Go have fun, now? You know fun, time of your life? Maybe if you follow that, I won't have to come back here."

"It was great the way her mind worked. No guilt, no doubts, no fear. None of my specialities. Just the shameless pursuit of immediate gratification. What a capitalist."


"- Joel Goodson: Porsche. There is no substitute.
- Miles: Fuck you."


"College women can smell ignorance like dog shit."


"My name is Joel Goodson. I deal in human fulfillment. I grossed over eight thousand dollars in one night. Time of your life, huh kid?"


Say "What the fuck". If you can't say it, you can't do it.