"Robin Hood: Men in Tights" quotes
(1993)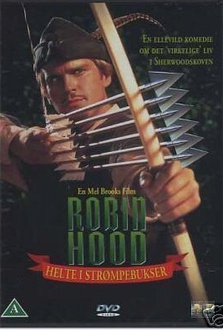 Title Robin Hood: Men in Tights
Year 1993
Director Mel Brooks
Genre Comedy, Musical, Adventure

Plot – In the thirteenth century, Richard the Lionheart King of England, who departed for the Crusade, is captured and is prisoned in the Holy Land. Robin of Loxley, his faithful nobleman, escapes and adventurously returns to his homeland. Here the evil Prince John, brother of the King, has usurped the throne helped by the Sheriff of Rottingham and he's oppressing the hungry peasantry. However, in the Sherwood forest Robin becomes their protector, training them to use weapons instead of pitchforks. He also finds the time to fall in love with Marian, a princess with a chastity belt who's suffering because of an extremely prudish German governess, Broomhilde. Robin organizes the uprising with the help of Etci, the son of an African prince, the blind servant Blinkin and Little John, a large man of the forest. The sinister Sheriff hires three Sicilian killers to murder Robin and he also receives a potion from the awful witch Latrina, in love with him, to marry Marian. Anyway, the Sheriff dies miserably, Robin ties the knot and becomes Lord of Sherwood after Richard comes back.
All actors – Cary Elwes, Richard Lewis, Roger Rees, Amy Yasbeck, Mark Blankfield, Dave Chappelle, Isaac Hayes, Megan Cavanagh, Eric Allan Kramer, Matthew Porretta, Tracey Ullman, Patrick Stewart, Dom DeLuise, Dick Van Patten, Robert Ridgely, Mel Brooks, Steve Tancora, Joe Dimmick, Avery Schreiber, Chuck McCann, Brian George, Zitto Kazann, Richard Assad, Herman Poppe, Clive Revill, Joe Baker, Carol Arthur, Kelly Jones Gabriele, Clement von Franckenstein, Corbin Allred, Chase Masterson, Don Lewis, Roger Owens, Patrick Valenzuela, Steffon, Dante Henderson, Bryant Baldwin, Diesko Boyland Jr., Edgar Godineaux Jr., Johnny Dean Harvey, Tyce Diorio, Joseph R. McKee, Nathan Prevost, Don Hesser, Bill Bohl, Christopher D. Childers, Raymond Del Barrio, Malcolm Danare, Edwin Hale, Nick Jameson, Peter Pitofsky, Nicholas Rempel, Rudy De Luca, Matthew Saks, Robin Shepard, Dee Gubin, Brad Grunberg, Lisa Cordray, Laurie Main, Elaine Ballace, Stuart Schreiber, James Van Patten, Ira Miller, Lillian D'Arc, Patrick Brymer, Robert Noble, Henry Kaiser, Tony Tanner, Diana Chesney, James Glaser, Ronny Graham, , Philip Alcazar, David DeLuise, Debbie James, Danny McBride, Arthur Rubin, Hanala Sagal, Marc Ian Sklar, Tim Storms
show all
"Robin Hood: Men in Tights" Quotes 17 quotes
"- Latrine: Raven's egg! Blood of a hen! A little more blood, yes! Eyeballs of a crocodile! Testicles of a newt! I bet he's a transsexual now! Robin of Loxley is handsome and brave. He seeks to regain his family's honor. Little sod could be trouble.
- Prince John: Are you certain?
- Latrine: Certain? You want certain, hire yourself a witch! Me,..."

(continue)

(continue reading)

"- Blinkin: Master Robin, Is that you?
- Robin Hood: Yes.
- Blinkin: Back from the Crusades?
- Robin Hood: Yes.
- Blinkin: And alive?
- Robin Hood: [pause] Yes."


"Good people, who have travelled from villages near and far! Lend me your ears!
[the crowd proceeds to pull off ears and throw them at Robin Hood]
That's disgusting!"


"- Asneeze: I've been in here for a while. Perhaps I could be of service. Do you have any questions?
- Robin Hood: What are you in for?
- Asneeze: Jaywalking."

"- Sheriff of Rottingham: What? You'll be mine? You'll give yourself to me every night? And sometimes, right after lunch?
- Marian: Yes, but only my body. You can never have my heart, my mind, or my soul!
- Sheriff of Rottingham: Oh, oh yes! I respect that."


"Tell everyone that when the day is out we shall have a wedding. Or a hanging. Either way, we're gonna have a lot of fun, huh?"


"- Sheriff of Rottingham: Who are these men?
- Don Giovanni: These? These are my most trusted associates. On my right, Dirty Ezio. On my left, Filthy Luca.
- Filthy Luca: We thank you, for inviting us on the day of your daughter's wedding.
- Don Giovanni: No, no, no.
- Filthy Luca: I hope that her first child, is a masculinechild."


"- Angry Villager: There must be another way of doing the credits.
- Fire Marshall: That's right. Every time they make a Robin Hood movie, they burn our village down!"


"- Guard: Robin of Loxley, where is your king?
- Robin Hood: King? King? And which King might that be? King Richard? King Louis? King Kong? Larry King?"


"- Robin Hood: Blinkin! What are you doing?
- Blinkin: Guessing. I guess no one's coming."

"Man, white men can't jump."

"- Ahchoo: Blinkin! How did you do that?
- Blinkin: I heard that coming a mile away.
- Robin Hood: Right-o, Blinkin, very good.
- Blinkin: Pardon? Who's talking?"

- Robin Hood: As my first order of business, I would like to appoint a new Sheriff... my friend Ahchoo.
- Crowd: A black sheriff?
- Blinkin: He's black?
- Ahchoo: And why not? It worked in "Blazing Saddles".