"Midnight Run" quotes
(1988)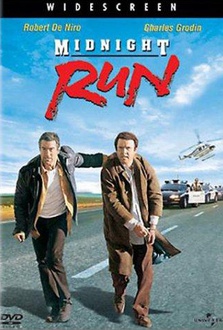 Title Midnight Run
Year 1988
Director Martin Brest
Genre Comedy, Crime, Thriller, Adventure, Action

Plot – Jack Walsh is a former Chicago cop who lives in Los Angeles. He works by occasional commissions for Eddie Moscone and has to find Jonathan Mardukas, an accountant called "The Duke", who has stolen 15 million dollars to Jimmy Serrano, a mafia boss. His reward is 100.000 dollars and he has five days to complete the tasks, but Jack thinks to abandon the job to open a restaurant. He finds Jonathan, but Serrano's henchmen are looking for him too, as well as FBI and Marvin Dorfler, another investigator.
All actors – Robert De Niro, Charles Grodin, Yaphet Kotto, John Ashton, Dennis Farina, Joe Pantoliano, Richard Foronjy, Robert Miranda, Jack Kehoe, Wendy Phillips, Philip Baker Hall, Tom McCleister, Mary Gillis, John Toles-Bey, Thomas J. Hageboeck, Stanley White, Scott McAfee, Linda Margules, Lois Smith, Fran Brill, Michael Hawkins, John Hammil, Lou Felder, Cameron Milzer, Sonia M. Roberts, Sam Sanders, Frank Pesce, Paul Joseph McKenna, Matt Jennings, Rosemarie Murphy, Jack N. Young, Robert Coleman, William Robbins, Wilfred Netsosie, Sherman L. Robbins, Dale Beard Jr., Thomas Nez, Richard Gonzalez, Bill Fritz, Pete Jensen, Andy Charnoki, Tracey Walter, Robert Vento, Joe 'Tippy' Zeoli, James Portolese, Armando Muniz, Dan York, Rowdy Burdick, Varnoy Lee, Bob Maroff, Tom Irwin, Jimmie Ray Weeks, Danielle DuClos, Martin Brest, Lisa Burnett, George Miklos, Robert Minkoff, Jock L. Schloss
show all
"Midnight Run" Quotes 16 quotes
"- Jonathan Mardukas: You ever had lyonnaise potatoes? They are these types of potatoes that are sautéed but then they have this onion thing added to them, and they are really, really delicious. They work well with any, uh, chicken or pork dish. You know I could set you up with lyonnaise potatoes for the rest of your life.
- Jack Walsh: Why don't..."

(continue)

(continue reading)




"- Jonathan Mardukas: Come on, cigarettes are killers.
- Jack Walsh: So are women."


"Let me describe the scene to you. There are these guys, see? They've probably been up for like two days. They stink of B.O., they have coffee breath, they're constipated from sittin' on their asses for so long, they're sitting in a van, and they're probably parked right up the street from your office, Eddie. Your phone is tapped!"

"- Jack Walsh: Are you gonna propose to me?
- Joey: Propose?
- Jack Walsh: Propose! Because if you're not, quit starin' at me, ok?"


"- Alonzo Mosely: You're gonna spend ten years for impersonating a federal agent.
- Jack Walsh: Ten years for impersonating a fed, huh?
- Alonzo Mosely: Ten years.
- Jack Walsh: How comes no one's after you?"


"- Jonathan Mardukas: You lied to me first!
- Jack Walsh: What the... you lied to me first!
- Jonathan Mardukas: Yes! Yes. But you didn't know I was lying to you when you lied to me down by the river. So as far as you knew, you lied to me first!
- Jack Walsh: How can I argue with this guy. I don't know what the fuck he's talking about."


"- Jack Walsh: How much is here?
- Jonathan Mardukas: Neighborhood of three hundred thousand.
- Jack Walsh: That's a, that's a... very respectable neighborhood."


"- Eddie Moscone: Let's go have some breakfast.
- Jack Walsh: I don't eat breakfast.
- Eddie Moscone: Well then have an early lunch, let's go!"


"- Jonathan Mardukas: You ever had sex with an animal, Jack? Remember those chickens on the Indian reservation? There were some good looking chickens there Jack. You know, between us...
- Jack Walsh: Yeah, there were a couple there I might've taken a shot at."


- Jonathan Mardukas: I asked you if you were hurt and you said "yeah, I'm hurt".
- Jack Walsh: That's because you made me say it. Startin' to put words in my mouth.
- Jonathan Mardukas: Jack, you're a grown man. You're in control of your own words.
- Jack Walsh: You're goddamn right I am. Now here come two words for you: shut the fuck up.