"Superbad" quotes
(2007)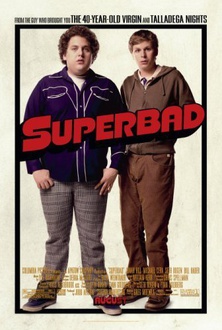 Title Superbad
Year 2007
Director Greg Mottola
Genre Comedy

Plot – The movie tells about the last school days of two hilarious and irreverent vicious teenagers who are about to graduate. Their friendship has always been an odd symbiosis, but now it's about to end as they have enrolled to two different colleges. After the summer, their paths will separate definitely. Evan is smart but terribly awkward with girls, while Seth is trivial, unpredictable and he only talks about sex. With them there's also Fogell, a loser and intrusive nerd. Due to their proverbial gaffe, Evan and Seth always have been ignored by the most popular guys in high school and now they have one last chance to make their mark.
All actors – Jonah Hill, Michael Cera, Christopher Mintz-Plasse, Bill Hader, Seth Rogen, Martha MacIsaac, Emma Stone, Aviva Baumann, Joe Lo Truglio, Kevin Corrigan, Clement Blake, Erica Vittina Phillips, Joe Nunez, Dave Franco, Marcella Lentz-Pope, Scott Gerbacia, Laura Seay, Roger Iwami, Clint Mabry, Stacy Edwards, Mark Rogen, Charlie Hartsock, Donna Hardy, Charley Rossman, Carla Gallo, Ben Best, Jody Hill, Kevin Breznahan, David Krumholtz, Mousa Kraish, Nicholas Jasenovec, Martin Starr, Keith Loneker, Matt McKane, Lauren Miller, Peter Salett, Rakefet Abergel, Brooke Dillman, Michael Naughton, Steve Bannos, Casey Margolis, Laura Marano, Matthew Bass, Aurora Snow, Jenna Haze, Ted Haigh, Michael Fennessey, Brian Huskey, Clark Duke, Stephen Borrello IV, Naathan Phan, Pamella D'Pella, Christopher L. Antie, Darya Balyura, Stacy Choe, Chelsey Dailey, Ryan de Quintal, Joseph DeLuca, Erica Ford, Clayton Frey, Lindsay Hanzl, Preston Jones, Carrie Keagan, Jill Maddrell, Danny McBride, Andrew Jackson Murphy, Cortney Palm, Mark Provencher, Amy Schloerb, Calvin Sykes, John Tremaine, Amanda Zubillaga
show all
"Superbad" Quotes 21 quotes
"- Fogell: They let you pick any name you want when you get down there.
- Seth: And you landed on McLovin.
- Fogell: Yeah. It was between that or Muhammed.
- Seth: Why the fuck would it be between that or Muhammed? Why don't you just pick a common name like a normal person?
- Fogell: Muhammed is the most commonly used name on Earth. Read a..."

(continue)

(continue reading)

"- Evan: Fogell, I don't understand why you we're smoking cigarettes with those cops.
- Fogell: Because I fuckin' rule?"


"She wants to fuck me! She wants my dick in or around her mouth!"




"- Seth: Dude you shouldn't have parked there.
- Evan: Man I'm about to graduate, they should be sucking on my ballsack, that's the least they can do for stealing 4 years of my life."

"- Fogell: What's it like to have a gun?
- Officer Michaels: It's like having two cocks. If one of your cocks could kill someone."


"- Seth: You dropped your purse, ma'am. Would you like me to help you with your groceries?
- Old Lady: Well that would be lovely young man. Would you like me to buy you alcohol?"

"I arrested a man-lady who was legally named Phuck."




"- Seth: Fogell, this ID says that you're 25 years old. Why wouldn't you just put 21, man?
- Fogell: Seth, Seth, Seth. Listen up, ass-face: every day, hundreds of kids go into the liquor store with fake IDs, and every single one says they're 21. How many 21 year olds do you think there are in this town? It's called fucking strategy, all right?"


"He is the sweetest guy. Have you ever looked into his eyes? It was like the first time I heard the Beatles."




"Momma's making a pube salad, and she wants some Seth's own dressing."


"Look, we all know home-ec is a joke, no offense, it's just that everyone takes this class to get an A, and it's bullshit, and I'm sorry. I'm not putting down your profession, but it's just the way I feel."

"- Officer Michaels: How old are you McLovin?
- Fogell: Old enough.
- Officer Slater: Old enough for what?
- Fogell: To party."


"Prepare to be fucked by the long dick of the law!"




"- Evan: I heard she got breast reduction surgery.
- Seth: What? That's like slapping God across the face for giving you a beautiful gift."


- Officer Michaels: McLovin, how is it going with the ladies?
- Fogell: It's not the "going" I'm worried about... but the "coming".