"Legally Blonde" quotes
(2001)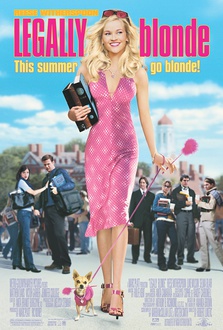 Title Legally Blonde
Year 2001
Director Robert Luketic
Genre Comedy, Romance

Plot – Elle Woods, a popular natural blond and president of her school's girl club, never had a problem in life and yet is not spoiled or capricious. One evening her boyfriend Warner invites her to dinner and Elle thinks he wants to marry her, but surprise, surprise, Warner wants to break up because she is too blonde, and so not serious enough. Elle now wants to prove him wrong.
All actors – Reese Witherspoon, Luke Wilson, Selma Blair, Matthew Davis, Victor Garber, Jennifer Coolidge, Holland Taylor, Ali Larter, Jessica Cauffiel, Alanna Ubach, Osgood Perkins, Linda Cardellini, Bruce Thomas, Meredith Scott Lynn, Raquel Welch, Samantha Lemole, Kelly Nyks, Ted Kairys, Michael B. Silver, Kimberly McCullough, Shannon O'Hurley, Greg Serano, Francesca P. Roberts, Lisa Arch, Natalie Barish, Cici Lau, Allyce Beasley, Kevin Cooney, Ted Rooney, David Moreland, Wayne Federman, James Read, Tane McClure, Niklaus Lange, Doug Spinuzza, Lisa K. Wyatt, Jason Christopher, Corinne Reilly, Victoria Mahoney, Lacey Beeman, Melissa Anne Young, Brody Hutzler, Chaney Kley, John Cantwell, Ondrea De Vincentis, Terence Michael, Nectar Rose, Jodi Harris, Patricia Kimes, Sasha Barrese, Kelly Driscoll, Elizabeth Matthews, Kennedy Stone, Moonie, Lily, , Gary Ambrosia, Joan Blair, Ali Chen, Gary Castro Churchwell, Curt Clendenin, Joe Dolan, Melanie H. Gassaway, Amber Goetz, Carol Hatchett, Mark Heidelberger, Richard Hillman, Seth Adam Jones, John Kapelos, Charles M. Kerper, Dean Mason, Beverly Polcyn, Kate Roxburgh, Rachel Ryling, Scott Ryan Whinery, Dylan White, Jenna Z. Wilson
show all
"Legally Blonde" Quotes 16 quotes
"Any masturbatory emissions, where the sperm is clearly not seeking an egg, could be termed reckless abandonment."




"Last week I saw Cameron Diaz at Fred Segal, and I talked her out of buying this truly heinous angora sweater. Whoever said orange was the new pink was seriously disturbed."


"- Brooke Taylor Windham: Are you one of my lawyers?
- Elle Woods: Sort of.
- Brooke Taylor Windham: Well thank God one of you has a brain."


"I feel comfortable using legal jargon in everyday life.
[someone whistles at her]
I object!"


"Exercise gives you endorphins. Endorphins make you happy. Happy people just don't shoot their husbands, they just don't."




I was first in my class at Princeton, I have an I.Q. of a hundred and eighty-seven, and it's been suggested that Stephen Hawking stole his "Brief History of Time"…from my fourth grade paper.