"Scream" quotes
(1996)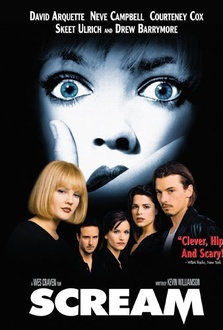 Title Scream
Year 1996
Director Wes Craven
Genre Crime, Horror, Mystery

Plot – Sidney has to deal with something bigger than the emotional outbursts of adolescence. In fact, her mother was murdered one year before, her father is always away on business trips and her boyfriend Billy wants her to run away from home. In addition, a serial killer uses his passion for horror movies to threaten the city, taking advantage of all his knowledge on the subject to play with the victims and divert the police.
All actors – Drew Barrymore, Roger Jackson, Kevin Patrick Walls, David Booth, Carla Hatley, Neve Campbell, Skeet Ulrich, Lawrence Hecht, Courteney Cox, W. Earl Brown, Rose McGowan, Lois Saunders, David Arquette, Joseph Whipp, Matthew Lillard, Jamie Kennedy, Lisa Beach, Tony Kilbert, C.W. Morgan, Frances Lee McCain, Liev Schreiber, Troy Bishop, Ryan Kennedy, Leonora Scelfo, Nancy Anne Ridder, Lisa Canning, Bonnie Wood, Aurora Draper, Kenny Kwong, Justin Sullivan, Kurtis Bedford, Angela Miller, Linda Blair, Wes Craven, Matt McDonald, Henry Winkler
show all
"Scream" Quotes 24 quotes
"Did we ever find out why Hannibal Lecter like to eat people? Don't think so! See, it's a lot more scarier when there's no motive."




"Everybody dies but us. We get to carry on and plan the sequel, 'cause, let's face it, baby, these days you gotta have a sequel."




"Oh, God, Kenny. I'm sorry, but get off my fucking windshield!"

"There's always some stupid bullshit reason to kill your girlfriend. That's the beauty of it all! Simplicity!"


Look, Kenny, I know you're about fifty pounds overweight, but when I say hurry, please interpret that as: "move your fat tub of lard ass", now!


"- Randy: Careful. This is the moment when the supposedly dead killer comes back to life, for one last scare.
[Billy starts to rise]
- Sidney Prescott: [shoots Billy] Not in my movie."

"- Sidney Prescott: How do you... gut someone?
- Stuart: You take a knife and you slit 'em from groin to sternum."


"Sidney, how does it feel to be almost brutally butchered? People want to know. They have a right to know! How does it feel?"




- Gale Weathers: Looks like we've got a serial killer on our hands!
- Deputy Dewey: Well, a "serial killer" is not really accurate. Gotta knock off a couple more to get that title.


"If I'm right about this, I could save a man's life. Do you know what that would do for my book sales?"




"No, please don't kill me, Mr. Ghostface, I wanna be in the sequel!"




- Billy Loomis: It's all part of the game, Sidney! It's called "guess how I'm gonna die"!
- Sidney Prescott: Fuck you!
- Billy Loomis: We've already played that game. Remember? You lost.