"Monty Python's The Meaning of Life" quotes
(1983)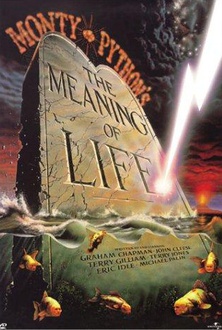 Title Monty Python's The Meaning of Life
Original title The Meaning of Life
Year 1983
Directors Terry Jones, Terry Gilliam
Genre Comedy, Musical, Fantasy

Plot – The last movie of the Monty Python series consists of several sketches. A professor gives his students practical demonstrations of sex education; Death arrives in a middle-class home, but It has a hard time getting recognized; a fat man guzzles and vomits in a continuous cycle and eventually explodes eating a mint; a Catholic family sings "Every Sperm is Sacred" and so on.
All actors – Graham Chapman, John Cleese, Terry Gilliam, Eric Idle, Terry Jones, Michael Palin, Carol Cleveland, Simon Jones, Patricia Quinn, Judy Loe, Andrew MacLachlan, Mark Holmes, Valerie Whittington, Jennifer Franks, Imogen Bickford-Smith, Angela Mann, Peter Lovstrom, George Silver, Chris Grant, Sydney Arnold, Guy Bertrand, Andrew Bicknell, Ross Davidson, Myrtle Devenish, Tim Douglas, Eric Francis, Matt Frewer, Billy John, Russell Kilmister, Peter Mantle, Len Marten, Peter Merrill, Cameron Miller, Gareth Milne, Larry Noble, Paddy Ryan, Leslie Sarony, John Scott Martin, Eric Stovell, Wally Thomas, Jack Armstrong, Robert Carrick, Douglas Cooper, George Daly, Chick Fowles, Terry Grant, Robin Hewlett, Tommy Isley, Juba Kennerley, Anthony Lang, John Murphy, Terry Rendell, Ronald Shilling, Albert Welch, , Luke Baxter, Stephen Beasley, Paul Bourke, Bonnie Bryg, Charlotte Corbett, Geoff Davids, Emma-Kate Davies, Sandra Easby, Jane Eve, Donna Fielding, Roy Hamlyn Gayle, Dawn Gerrard, Natascha Gilbrooke, Donnette Goddard, Heavon Grant, Alison Jane Hierlihy, Laura James, Kim Elizabeth Leeson, Maddie Loftin, Michelle Mackie, Paul Madden, Helen Mason, Caroline Meacher, Lorraine Meacher, Sue Menhenick, Kerri Murphy, Tammy Needham, Garry Noakes, Trudy Pack, Floyd Anthony Pearce, Wanda Rokicki, Peter Salmon, Lizie Saunderson, Steve St. Klonis, Voyd, Timothy Ward, Michelle Welch, Gess Whitfield, Lorraine Whitmarsh, Dominique Wood, Carole Anne, Lynne Hazelden, Jane Leeves, Cy Town
show all
"Monty Python's The Meaning of Life" Quotes 20 quotes
"Blame the Catholic church for not letting me wear one of those little rubber things... Oh they've done some wonderful things in their time, they preserved the might and majesty, even the mystery of the Church of Rome, the sanctity of the sacrament and the indivisible oneness of the Trinity, but if they'd let me wear one of the little rubber..."

(continue)

(continue reading)




"- Maître D': Today we have, for appetizers moules marinières, pâté de foie gras, beluga caviar, eggs Benedictine, tart de poireaux, that's leek tart, frogs' legs amandine, or oeufs de caille Richard Shepherd, c'est à dire, little quails' eggs on a bed of puréed mushroom. It's very delicate, very subtle.
- Mr. Creosote: I'll have the lot."


"Don't stand there gawping! Like you've never seen the hand o' God before!"




"- Harry Blackitt: Look at them, bloody Catholics, filling the bloody world up with bloody people they can't afford to bloody feed.
- Mrs. Blackitt: What are we dear?
- Harry Blackitt: Protestant, and fiercely proud of it."


"I see you have the machine that goes ping. This is my favorite. You see we lease it back from the company we sold it to and that way it comes under the monthly current budget and not the capital account."




"- Hospital Administrator: What are you doing this morning?
- Obstetrician: It's a birth.
- Hospital Administrator: And what sort of thing is that?
- Dr. Spencer: Well, that's where we take a new baby out of a lady's tummy.
- Hospital Administrator: Wonderful what we can do nowadays."


"Honestly, darling, I'm so embarrassed. I mean to serve salmon with botulism at a dinner party is social death."




"You Englishmen! You're all so fucking pompous. None of you have got any balls!"




"Oh Lord, please don't burn us, don't grill or toast your flock, don't put us on the barbecue, or simmer us in stock, don't braise or bake or boil us, or stir-fry us in a wok. Oh please don't lightly poach us, or baste us with hot fat, don't fricassee or roast us, or boil us in a vat. And please don't stick thy servants Lord, in a rotissomat."

"Every sperm is sacred, every sperm is great, if a sperm is wasted, God gets quite irate."


"- Grim Reaper: I have come for you.
- Geoffrey: You mean to…
- Grim Reaper: Take you away. That is my purpose. I am Death.
- Geoffrey: Well that's cast rather a gloom over the evening hasn't it?"


"- Chaplain: Let us praise God. Oh Lord.
- Congregation: Oh Lord.
- Chaplain: Oh, you are so big.
- Congregation: Oh, you are so big.
- Chaplain: So absolutely huge.
- Congregation: So absolutely huge.
- Chaplain: Gosh, we're all really impressed down here, I can tell you.
- Congregation: Gosh, we're all really impressed down here, I can tell..."

(continue)

(continue reading)




"Isn't it awfully nice to have a penis? Isn't it frightfully good to have a dong? It's swell to have a stiffy, it's divine to own a dick. From the tiniest little tadger, to the world's biggest prick. So, three cheers for your Willy or John Thomas, hooray for your one-eyed trouser snake, your piece of pork, your wife's best friend, your percy or..."

(continue)

(continue reading)

"- Harry Blackitt: [referring to Catholics] Every time they have sexualintercourse, they have to have a baby.
- Mrs. Blackitt: But it's the same with us, Harry.
- Harry Blackitt: What do you mean?
- Mrs. Blackitt: Well, I mean, we've got two children, and we've had sexualintercourse twice."


"- Maître D': Good evening sir and how are we today?
- Mr. Creosote: Better.
- Maître D': Better?
- Mr. Creosote: Better get a bucket. I'm gonna throw up."


Shut up! Shut up you American. You always talk, you Americans. You talk and you talk and say "Let me tell you something" and "I just wanna say this". Well you're dead now, so shut up.