"Harry Potter and the Chamber of Secrets" quotes
(2002)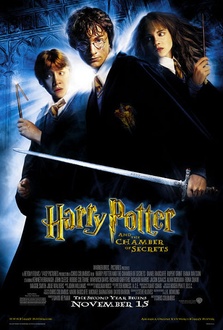 Title Harry Potter and the Chamber of Secrets
Year 2002
Director Chris Columbus
Genre Adventure, Family, Fantasy

Plot – Harry doesn't listen to the advice of the elf Dobby and goes to the wizarding school of Hogwarts with his friend Ron on board of his flying car. When he arrives at the institute, he finds out that things aren't going well at all. In fact, the Chamber of Secrets has been opened and a horrific creature is spreading terror. Its victims are turned to stone. The popular teacher Gilderoy Lockhart isn't useful to stop the threat and in order to save the situation Harry himself will have to intervene.
All actors – Daniel Radcliffe, Rupert Grint, Emma Watson, Richard Griffiths, Fiona Shaw, Harry Melling, Toby Jones, Jim Norton, Veronica Clifford, James Phelps, Oliver Phelps, Julie Walters, Bonnie Wright, Mark Williams, Chris Rankin, Tom Felton, Jason Isaacs, Edward Tudor-Pole, Jenny Tarren, Robbie Coltrane, Tom Knight, Heather Bleasdale, Isabella Columbus, Kenneth Branagh, Peter O'Farrell, Ben Borowiecki, Harry Taylor, Matthew Lewis, Devon Murray, David Bradley, Alan Rickman, Richard Harris, Maggie Smith, Jamie Waylett, Josh Herdman, Miriam Margolyes, Gemma Padley, John Cleese, Hugh Mitchell, Alfred Enoch, Eleanor Columbus, Sean Biggerstaff, Rochelle Douglas, Emily Dale, Danielle Tabor, Jamie Yeates, Warwick Davis, Violet Columbus, Peter Taylor, Luke Youngblood, Scot Fearn, David Holmes, David Massam, Tony Christian, David Churchyard, Gemma Jones, Shirley Henderson, Edward Randell, Sally Mortemore, Louis Doyle, Charlotte Skeoch, Brendan Columbus, Robert Ayres, Alfred Burke, Leslie Phillips, Helen Stuart, Daisy Bates, David Tysall, Christian Coulson, Martin Bayfield, Robert Hardy, Julian Glover, Les Bubb, , Macéo Bhardwaj, Maria Coyne, Sean Cronin, Pamela Kempthorne, Oliver Lavery-Farag, Nathan Lubbock-Smith, Ian Maden, Terence McAuley, Emma Murphy, Christopher O'Shea, Petia Pavlova, Amy Puglia, Adrian Rawlins, Sarah Rorbach, Geraldine Somerville
show all
"Harry Potter and the Chamber of Secrets" Quotes 19 quotes
"Ah, music. A magic beyond all we do here!"


"I'll be in my bedroom making no noise and pretending I don't exist."




"Fear of a name only increases fear of the thing itself."

"- Draco Malfoy: Scared, Potter?
- Harry Potter: You wish."


"What else don't I know about myself? Maybe you can do something, even something horrible and not know you did it."

"I should think you'd be a little more grateful. We've raised you since you were a baby, given you the food off our table, even let you have Dudley's second bedroom, purely out of the goodness of our hearts."

"Even in the wizarding world, hearing voices isn't a good sign."

"Fame is a fickle friend. Celebrity is as celebrity does."




"- Gilderoy Lockhart: Books can be misleading...
- Harry Potter: You wrote them!
- Gilderoy Lockhart: My dear boy, do use your common sense! My books wouldn't have sold half as well if people didn't think I'd done all those things!"


"Spooky how the time flies when one's having fun."




"Dobby is used to death threats. He gets them five times a day at home."




"In the past few hours you have broken perhaps a dozen school rules. There is sufficient evidence to have you both expelled. Therefore, it is only fitting that you both receive... special Awards for Services to the School."

"It's not much, but it's home."




"Help will always be given those who ask for it."




There's some wizards, like the Malfoy family, who think they're better than everyone else because they're what people call "pure blood".