"The Family" quotes
(2013)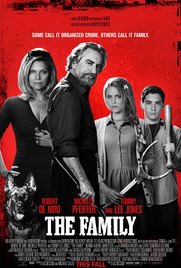 Title The Family
Year 2013
Director Luc Besson
Genre Comedy, Crime, Thriller

All actors – Robert De Niro, Michelle Pfeiffer, Dianna Agron, John D'Leo, Tommy Lee Jones, Jimmy Palumbo, Domenick Lombardozzi, Stan Carp, Vincent Pastore, Jon Freda, Michael J. Panichelli Jr., Paul Borghese, Anthony Desio, Ted Arcidi, David Belle, Raymond Franza, Barbara Bolotner, Jan Hammenecker, Paulette Frantz, Claudine Acs, Christopher Craig, Cédric Zimmerlin, Tonio Descanvelle, Christophe Kourotchkine, Dominique Serrand, Serge Tranvouez, Caroline Arrouas, Sophie Froissard, Patrick Sueur, Régis Royer, Michel Aymard, Florent Guyot, Matthew Luret, Laurent Claret, Chloé Oliver, Françoise Gazio, Sissi Duparc, Mario Pecqueur, Bernadette Paviot, Christophe Reymond, Bruno Fleury, Abigail Boucher, Leslie Menu, Jacques Fontanel, Xavier Brossard, Nicolas Wanczycki, Jean-Claude Bohbote, Gaëlle Jeantet, Oisin Stack, Annie Mercier, Florence Muller, Jonas Bloquet, Simon Krel, Martin Goutry, Rebecca Shang, Victoire Du Bois, Jérémy Jean, Côme Levin, Camille Gigot, Vincent Claude, Robin Rafoni, Jimmy Loehler, Maïté Blanco, Léo-Paul Salmain, Bruno Cadillon, Catherine Schaub-Abkarian, Charles Derondel, Alexandre Piot, Tom Hudson, Solal Forte, Jim Schachmes, Frédéric Dockès, Raphaël Boshart, Terron Jones, Cortez Nance, Dominic Chianese, Louis Arcella, Thierry Pietra, Steven Lyon, Kresh Novakovic, Marie-Anne Mestre, Paul Bandey, Peter Hudson, Alain Barbier, Marie Guillard, Alice Allwright, Lorenzo Montalbanc, Samira Sedira, Moussa Maaskri, Mour, Abdelaziz Doukali, Joe Perrino, Anthony Mangano, Vincent Riviezzo, Lou Patane, Steven Randazzo, Steven Rattazzi, Gino Cafarelli, Anthoula Katsimatides, Elba Sette-Camara, Ricardo Cordero, Mike Bocchetti, Dave Bobb, Kevin Kolack, Mark E. Phillips, Dante Bruzzese, Patrick Médioni, David Salles, François Rabette, Giovanni Cirfiera, Nathan Rippy, Emmanuelle Moreau, Dan Cade, Virginia Di Leo, Charles Di Leo, Stosh Zona, Peter Falcetti, Matthew L. Imparato, , Greg Antonacci, Chris Cenatiempo, Joseph Dimartino, Eric Malo, Franck Neckebrock
show all
"The Family" Quotes 21 quotes
"This morning I was worth 20 million dollars. I'm probably worth double that now. I've cheated death so many times in my life, I don't even think about it any more."


"- Maggie Blake: The human body was not designed to combat saturated fat like that. The butter impregnates the tissues, and then it hardens and settles like silt. It makes your aorta stiffer than a hockey stick. Whereas olive oil - caresses your insides, leaving nothing behind but its scent.
- Caputo: That's right. Oil is in the Bible."


"- Fred Blake: Can't you just sit down and relax and enjoy it? In our long friendship, this is our first ever guys' night out.
- Robert Stansfield: Friendship?
- Fred Blake: Yeah. I mean, you're probably the guy I hate the most in this whole fuckin' world, but we've known each other what, nine, ten years already? My freedom is based on the deep..."

(continue)

(continue reading)




"Anybody who doesn't contradict me can expect nothing but good things from me."




"- Bernie: It's good to see you again.
- Maggie Blake: The feeling's not mutual, Bernie."


"I've never shown contempt for people who fear me."




The only real question we should ask ourselves during our existence is: "How much is a man's life worth?".




"I didn't kill him, I took him to the hospital."

"- Priest: Your confession has haunted me all week. How can you live such a hellish existence?
- Maggie Blake: Isn't that the point of confession?"


"You're gonna take that silverware and put it where you found it, nice and easy, or else I'm gonna break both your arms."

"If you give me a job, I'll always see it through."




"- Robert Stansfield: You're not a writer, Fred.
- Fred Blake: You even said I have a style of my own.
- Robert Stansfield: You're just a mean son-of-a-bitch that managed to save his own ass."


"I lived outside the law, but only outlaws didn't judge me."




"Hey boys, is this your approach to women? You're not gonna get very far. Girls are not some toys that you fuck in the park! Okay? Your future depends on women, don't you care about your future? So take care of them, or else you're not gonna have one."


"I don't like to cause pain for no reason, because all my sadistic urges are satisfied when I cause pain for a good reason."


I gave you my heart and soul, things I've never given to anybody before, and you wanna call it "a fabulous moment"?