"Step Brothers" quotes
(2008)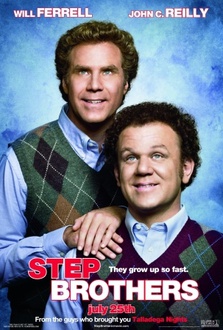 Title Step Brothers
Year 2008
Director Adam McKay
Genre Comedy

Plot – Brennan Huff is a thirty-nine-year-old man who still lives with his mother Nancy and who works only occasionally. Dale Doback is constantly unemployed and lives with his father Robert. When Robert and Nancy marry and decide to move in together, Brennan and Dale, now step-brothers, also end up living together. Their narcissism and laziness threaten to destroy the new family, so these overgrown boys come up with a plan to have their parents make peace. To put it in place the two will be forced to create an unlikely bond that maybe will finally take them out of their parents' home.
All actors – Will Ferrell, John C. Reilly, Mary Steenburgen, Richard Jenkins, Adam Scott, Kathryn Hahn, Andrea Savage, Lurie Poston, Elizabeth Yozamp, Logan Manus, Travis T. Flory, Lili Rose McKay
show all
"Step Brothers" Quotes 20 quotes
"- Nancy Huff: Guys. Guys. Guys!
[both guys wake up and quote last line from their dreams]
- Brennan Huff: I'll kill you, Leonard Nimoy.
- Dale Doback: The clown has no penis.
- Nancy Huff: What kind of dreams are you guys having?"

"- Brennan Huff: You know what? I still hate you, but you got a pretty awesome collection of nudie mags.
- Dale Doback: Yeah, I got 'em from the 70's, 80's and 90's. It's like masturbating in a time machine."


"- Brennan Huff: Hey Derek, you know what's good for shoulder pain?
- Derek: What?
- Brennan Huff: If you lick my butt hole."


- Dale Doback: Suppose Nancy sees me coming out of the shower and decides to come on to me. I'm looking good, got a luscious V of hair going through my chest pubes down to my ball fro. She takes one look at me and goes, "oh, my God, I've had the old bull, now I want the young calf", and she grabs me by the weiner.
- Dr. Robert Doback: Shut the...

(continue)

(continue reading)




- Brennan Huff: Mom, I honestly thought I was gonna be raped for a second. He had the craziest look in his eyes. And at one point he said, "lets get it on".
- Dale Doback: That was about the fighting. I am so not a raper!
- Brennan Huff: Look, I didn't touch your drum set, okay?
- Dale Doback: I witnessed with my eyes your testicles touching my...

(continue)

(continue reading)




"I swear, I'm so pissed off at my mom. As soon as she's of age, I'm putting her in a home."


"- Dale Doback: Why do you have Randy Jackson's autograph on a martial arts weapon?
- Brennan Huff: 'Cause I bumped into him and all I had on me was this samurai sword. And you're not gonna not get Randy Jackson's autograph, right?
- Dale Doback: I would've done the exact same thing."


- Dale Doback: I work at a college as a janitor even though I feel like I'm smarter than most of the people who go there. Sometimes I see an equation written on a blackboard like half an equation and... I just figure it out.
- Male Therapist: Is this "Good Will Hunting"?
- Dale Doback: No.
- Male Therapist: It sounds a lot like the plot of "Good...

(continue)

(continue reading)

"- Brennan Huff: This house is a fucking prison!
- Dale Doback: On Planet Bullshit!
- Brennan Huff: In the galaxy of This Sucks Camel Dicks!"


One day my dad said, "Bobby, you are 17. It's time to throw childish things aside", and I said, "okay, Pop". But he didn't really say that, he said, "stop being a fucking dinosaur and get a job".

"- Brennan Huff: I remember my first beer.
- Dale Doback: That's so funny, the first time I heard that I laughed so hard I fell off my dinosaur."


"- Dale Doback: You and your mom are hilbillies. This is a house of learned doctors.
- Brennan Huff: You're not a doctor... you're a big, fat, curly-headed fuck!"


You know that one scene in "The Wizard Of Oz"... when the flying monkeys pull apart the scarecrow? That's what it was like.