"Batman Returns" quotes
(1992)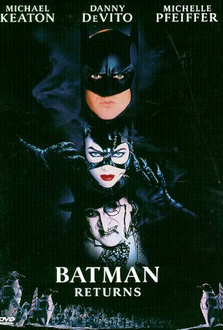 Title Batman Returns
Year 1992
Director Tim Burton
Genre Action

Plot – It's Christmas time in Gotham City. Citizens prepare to celebrate listening the traditional authorities' speech when The Penguin and his gang ruin everything. He's a monstrous creature grown up in the sewers after the abandonment by his parents and now he rules Gotham's underworld. He wants to take possession of the whole city with the help of Max Schreck, an unscrupulous tycoon, but Batman will prevent his conspiracy thanks also to a new heroine, Catwoman.
All actors – Michael Keaton, Danny DeVito, Michelle Pfeiffer, Christopher Walken, Michael Gough, Michael Murphy, Cristi Conaway, Andrew Bryniarski, Pat Hingle, Vincent Schiavelli, Steve Witting, Jan Hooks, John Strong, Rick Zumwalt, Anna Katarina, Gregory Scott Cummins, Erika Andersch, Travis McKenna, Doug Jones, Branscombe Richmond, Paul Reubens, Diane Salinger, Stuart Lancaster, Cal Hoffman, Joan Jurige, Rosie O'Connor, Sean Whalen, Erik Onate, Joey DePinto, Steven Brill, Neal Lerner, Ashley Tillman, Elizabeth Sanders, Henry Kingi, Joan Giammarco, Lisa Guerrero, Frank DiElsi, Biff Yeager, Robert Gossett, Adam Drescher, Bobby Bell, Niki Botelho, Susan Rossitto, Margarita Fernández, Denise Killpack, Felix Silla, Debbie Lee Carrington, , Darla, Anthony De Longis, Tyler House, Jeff Langton, Robert McPhalen, Mindi Miller, Cheryl Moore, Jeff Mulvin, Steffanie Siebrand, Desi Singh, Michael Sutherland, Mark Taormino
show all
"Batman Returns" Quotes 27 quotes
"I'm a woman and can't be taken for granted. Life's a bitch, now so am I."




"- Catwoman: Batman napalmed my arm, he knocked me off a building just when I was starting to feel good about myself. I wanna play an integral part in his degradation.
- The Penguin: A plan is forming.
- Catwoman: I want in. The thought of busting Batman makes me feel all... dirty. Maybe I'll just give myself a bath right here."


"My dear penguins, we stand on a great threshold! It's okay to be scared; many of you won't be coming back. Thanks to Batman, the time has come to punish all God's children! 1st, 2nd, 3rd and 4th-born! Why be biased? Male and female! Hell, the sexes are equal with their erogenous zones blown sky high! Forward march! The liberation of Gotham has..."

(continue)

(continue reading)

"You gotta admit I played this stinkin' city like a harp from hell."




"- Catwoman: Not even in office yet and already an enemies list?
- The Penguin: Those names are not for prying eyes. Hey, why should I trust some cat-broad, anyway? Maybe you're just a screwed-up sorority chick who's gettin' back at her daddy for not buying her that pony when she turned sweet sixteen."


"You're Beauty and the Beast in one luscious Christmas gift pack."

"Honey, I'm home! Oh, I forgot. I'm not married."




"- Batman: Mistletoe can be deadly if you eat it.
- Catwoman: But a kiss can be even deadlier if you mean it. You're the second man who killed me this week, but I've got seven lives left."


"You poor guys. Always confusing your pistols with your privates."




"- Volunteer Bimbo: You are the coolest role-model a young person could have!
- The Penguin: And you're the hottest young person a role-model could have."


"- Batman: What do you want?
- The Penguin: Ah, the direct approach. I admire that in a man with a mask."


It's the so-called "normal" guys who always let you down. Sickos never scare me. Least they're committed.




"- Selina Kyle: Go ahead. Intimidate me, bully me if it makes you feel big. I mean it's not like you can just kill me.
- Maximillian 'Max' Shreck: Actually, it's a lot like that."


"Why is there always someone who brings eggs and tomatoes to a speech?"

- Fat Clown: Penguin... I mean, killing sleeping children. Isn't it that a little, uh...
- The Penguin: No! It's a lot "uh"!