"The People vs. Larry Flynt" quotes
(1996)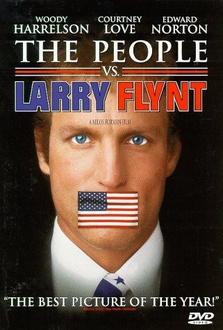 Title The People vs. Larry Flynt
Year 1996
Director Milos Forman
Genre Drama, Biography

Plot – In the early seventies in America, Larry Flynt runs some anonymous strip clubs which aren't successful. One day he decides to ​​create a magazine with the photo of the strippers and his life suddenly changes: after a period of uncertainty and difficulty, the monthly magazine called 'Hustler' starts selling an increasing number of copies and Larry becomes increasingly rich, creating a real publishing empire. Halfway between eroticism and pornography, 'Hustler' is distributed throughout the country, but when Larry decides to transfer to Cincinnati his publishing house headquarters, two eminent local personalities think it's an affront and begins a battle against the publisher. In 1976 Flynt is arrested for obscenity and he's avoided by all political forces who think he's a dangerous person, partly because of his marriage with Althea Leasure, a former stripper now a drug addicted. Only his young lawyer Isaacman agrees to defend him in the various and increasing trials.
All actors – Woody Harrelson, Courtney Love, Edward Norton, Brett Harrelson, Donna Hanover, James Cromwell, Crispin Glover, Vincent Schiavelli, Miles Chapin, James Carville, Richard Paul, Burt Neuborne, Jan Tríska, Cody Block, Ryan Post, Robert Davis, Kacky Walton, John Ryan, Kathleen Kane, Greg Roberson, Jim Peck, Mike Pniewski, Tim Parati, Rick Rogers, Dan Lenzini, David Compton, Gary Lowery, Stephen Dupree, Rainbeau Mars, Tam Drummond, Nancy Lea Owen, John Fergus Ryan, Oliver Reed, Meresa T. Ferguson, Andrena Fisher, Ken Kidd, Larry Flynt, Janie Paris, Carol Russell-Woloshin, Ruby Wilson, Eddie Davis, Blaine Pickett, Kerry White, Joey Hadley, Chris Schadrack, Mac Pirkle, Mark W. Johnson, Doug Bauer, Roberto Roman Ramirez, Blaine Nashold, Aurélia Thiérrée, Scott William Winters, D'Army Bailey, Mike McLaren, Andy Stahl, Michael Detroit, Jaime Jackson, David Dwyer, Richard Birdsong, James A. White, Gerry Robert Byrne, Benjamin Greene Jr., Mary Neal Naylor, Tina M. Bates, Evans Donnell, Jay Adams, Bennett Wood, Janice Holder, A.V. McDowell, Jim Grimshaw, James Smith, Rand Hopkins, Charles M. Crump, Pierre Secher, Linn Sitler, Mary M. Norman, Jack Shea, Lisa Lax, Susan Howe, Michael MicQuick Davis, Dennis Turner, Patti Hatchett, Ann Marie Hall, Nate Bynum, Paula Haddock, Gary Kraen, Norm MacDonald, Jeff Johnston, Joey Sulipeck, Jim Palmer, Gene Lyons, Saida Pagan, Jim Hild, Michael Klastorin, Michelle Robinson, Ken Axmaker Jr., James Buchanan, Neill Calabro, Emmy Collins, Kiki D'Aire, Roland Gomez, David Kallaway, Thomas Reid
show all
"The People vs. Larry Flynt" Quotes 27 quotes
"The reign of Christian terror is over. We're going back to our roots. We are porn again."


"- Larry Flynt: You believe God created man?
- Stills Photographer: Yeah.
- Larry Flynt: And God created woman?
- Stills Photographer: Yeah.
- Larry Flynt: Surely the same God created her vagina and who are you to defy God?"


"- Judge Thomas Alva Mantke - L.A. Court: Do you swear to tell the truth, the whole truth, and nothing but the truth, so help you God?
- Larry Flynt: No.
- Judge Thomas Alva Mantke - L.A. Court: No?
- Larry Flynt: Your honor, I'm an atheist. I can't very well, uh, swear to a God I don't believe exists."


Murder is illegal but if you take a picture of somebody committing the act of murder they'll put you on the cover of Newsweek, you might even win a Pulitzer Prize and yet sex is legal everybody is "doing it" or everybody wants to be "doing it". Yet if you take a picture of two people in the act of sex or if you take a picture of a woman's naked...

(continue)

(continue reading)




"Unpopular speech is absolutely vital to the health of our nation."




"- Larry Flynt: That's just the disguise for censorship. This country belongs to me just as much it belongs to you, if you don't like Hustler Magazine, don't read it.
- Simon Leis: I don't but what about our innocent children that gaze upon it in our grocery stores?
- Larry Flynt: If a kid gets caught drinking beer in a tavern, we don't ban..."

(continue)

(continue reading)




"What I do like is the fact that I live in a country where you and I can make that decision for ourselves. I like the fact that I live in a country where I can pick up Hustler magazine and read it, or throw it in the garbage can if that's where I think it belongs."

"If the First Amendment will protect a scumbag like me, it will protect all of you."




"A teacher educates our children and they become model citizens, the clergymen preaches we find spiritually, my bank gives loans and homes get built but now there's a new darker influence in Cincinnati and we cannot hide from this. Decent people are being corrupted."

"- Judge Morrissey - Cincinnati Court: Do you have anything to say before I sentence you?
- Larry Flynt: Your honor, you have not made one intelligent decision during the course of this trial and I don't expect one now: knock yourself out."


"At the heart of the First Amendment is the recognition of the fundamental importance of the free flow of ideas, freedom to speak one's mind is not only an aspect of an individualliberty but is essential to the quest for truth and the vitality of society as a whole, in the world of debate about public affairs many things done with motives that..."

(continue)

(continue reading)




"I oughta move somewhere, where perverts are welcome."




"Larry, I don't want to work at the magazine anymore. People there don't listen me and they don't talk to me. They're afraid of me and they don't shake my hand... Larry, I went to Dr. Robert and... he told me that I was sick. I mean, sick, sick. I mean, I've got AIDS, Larry."


"What was your childhood like? Because sometimes things happen to us when we're very young that can hurt for many years after."

"Nobody on this planet wants their religion and their pornography together."




"Opinions are like assholes, everybody's got one."


"Eight million people buy it, and no one reads. Gentleman... Playboy is mocking you."




"I have giving you my best since back when people were laughing at you, and every time we come in there now, you fuck me with this bullshit circus act."

"We live in a free Country" and that is a powerful idea that is a magnificent way to live but there is a price for that freedom which is sometimes we have to tolerate things we don't necessarily like.